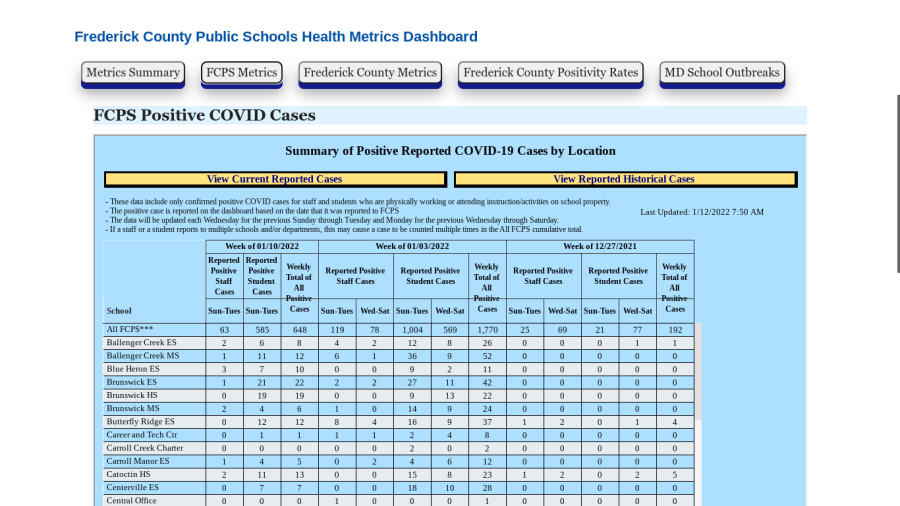 FCPS
Recently, many schools throughout the entire nation have been searching for the best possible solutions to keep schools safe amid the surge in Covid cases due to the new variant of Covid-19, Omicron. Though this is a nationwide issue, Maryland school districts have established different ways of handling the outbreaks based on severity.
Frederick County Public Schools (FCPS) took the route of staying in person; however, they have contingency plans in place if transmission becomes too severe. These plans have included moving to virtual for 1-2 weeks, or a hybrid model which will only take place if needed for more than one term. FCPS has planned for any eventuality that comes; these plans are not currently taking place. Principal of Oakdale High School, Lisa Smith, explained Frederick County's main goal. 
Many counties were alarmed by the rise in cases just before winter break.  An example of this is Prince George's County (PGCPS). After they reached a spike in cases, Dr. Monica Goldson, the superintendent of PGCPS, wrote a letter informing the community. "Virtual learning will continue Monday, January 3 through Friday, January 14. In-person learning will resume Tuesday, January 18." The decision was ultimately made to help decrease the spread of omicron among students.
Montgomery County Public Schools (MCPS) made the decision to consider temporary virtual learning for schools that hit more than 5% of students and staff that were positive. 11 schools in their district went virtual on January 5th, however on January 7th they reversed this rule. Written in a community update, Superintendent Dr.Monifa McKnight, informed families of this update.
"The state of Maryland does not currently recommend any automatic trigger or threshold for the suspension of in person learning. Therefore, MCPS will no longer use a threshold of 5 % or more of unrelated students and staff in a school who test positive in a 14 day period to consider a transition to virtual learning."
Many parents, students, and staff were enraged by this. "As a student of MCPS it feels like they don't care about everyone's safety, and they're not trying," voiced Sofia Prentice, a student of Albert Einstein High School in Silver Spring.  
Though they are receiving backlash for no longer following this rule amid the shortage of masks and rapid testing, MCPS has still managed to provide students and staff with resources.  Students throughout Montgomery County were provided with rapid tests and staff were given KN95 masks.
While each school board is trying to handle the outbreak, students are still impacted. Reasons vary,  but a lot of it comes down to the social emotional part of learning. 
An Oakdale sophomore expressed their struggles with the outbreak: "It's sad because a lot of my friends are out, so I don't get to see them as often. Plus some of my teachers have been absent which makes it harder to learn."
Not only are students in day to day classes being impacted by the outbreak of cases, athletic teams have as well. While each athletic team has faced their own separate adversities, Smith admitted that, "all of our teams have been affected by somebody testing positive." Smith went on to note a probable cause of this voicing:  "when they participate unmasked it increases the risk, which is problematic."
Since the majority of winter sports are played unmasked, outbreaks on teams are common. While FCPS has requirements to keep athletes safe, MCPS has other mitigation strategies for their teams. An anonymous swimmer on an MCPS swim team explained their approach. 
"For the meets, They have been pretty safe, we all wear a mask except for when we're in the water, and we keep our distance. Plus we do have a vaccine mandate for winter sports." 
Though each county may have different ways of handling the outbreak in cases, they all share the same sentiment of wanting to keep students safe in school. We can help keep students in school by following mitigation strategies in place.