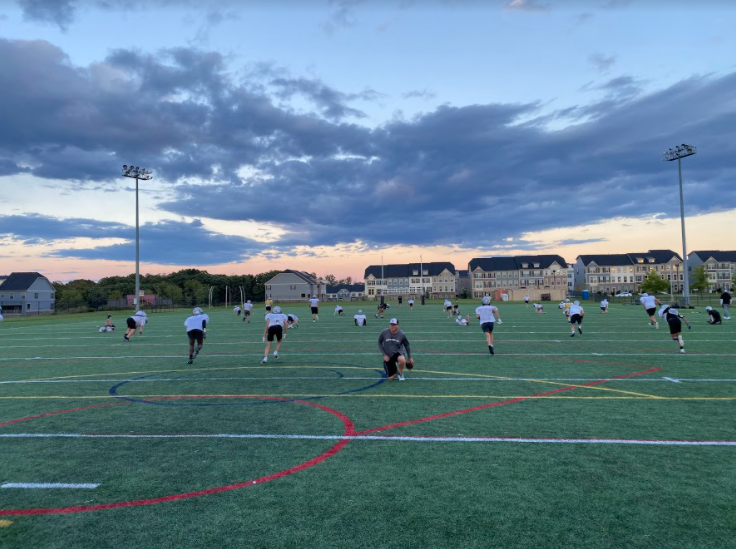 Oakdale High School Sees a Larger JV Football Team in 2022
Junior Varsity, JV, Football for the Oakdale Bears is tough enough with the amount of players they have. With having the biggest Freshman class joining, it's going to be complicated to get everyone a turn to show what they can do. In spite of a whole new coaching staff, they are ready to teach everyone of them how to be the best they can.
The JV football team has started off great by facing the South Hagerstown Rebels at South Hagerstown. JV football got their first win of the season, winning by 27-8. Winning a first game is vital because it shows the other teams that the Bears are not here to mess around.
After the win against South Hagerstown, the JV team started to falter. They played the Walkersville Lions in week two, and lost 28-13. Oakdale's JV team didn't play at their top potential. Then in week three they played the Middletown Knights at Oakdale Stadium that ended in another loss at 14-7.
Oakdale's biggest rival in all sports are the Linganore Lancers. They also have a packed crowd every time Oakdale plays Linganore in any sport. According to Sophomore Dean Browning, "Linganore [will be the toughest team JV football sees] because they have the most skilled players at every position so they can do things well at every position." 
JV has prepared for when it was time to play Linganore, but injuries can also prevent a team from winning. Oakdale had over ten players injured, some of which were starters, so that affected how the team played. 
On the 21st of September, The Bears played the Linganore Lancers at Linganore stadium. Oakdale put up a good fight but were not able to come out on top, ending with a tough loss of 34-15. But after that loss they knew that they were not playing at their full potential and could play much better than they did against Linganore.
After each JV game, the team gets back to work, watching film of their previous games, getting a good lift in, then preparing for what they have to do to get ready for the next team they play. 
However, there can also be consequences at practice the next day following a loss. According to Sophomore Asa Deickman, practice is the hardest: "After a tough loss, or a horrible play against a bad team even though we won, or when the coaches don't see the effort in our play." 
The JV football team has a lot of players that have the talent and ability to go to the next level, College, or maybe even make it into the NFL. The only thing they have to do is come together and play like they mean it. While some players already give it their all each time they're on the field, the whole team needs to play like they mean it and if they do, the JV Bears will see nothing but success.