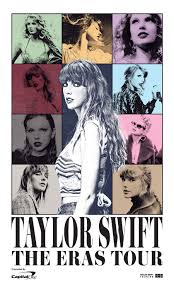 The multi-talented, American singer-songwriter, Taylor Swift has proven herself as more than just a pop princess. Her influence on the music industry alone has made her one of the most prominent figures of the 21st century. The icon is not only known for her captivating storytelling, but her ability to be versatile, spanning into multiple genres of music.
On November 1st, 2022, Swift announced that she would be returning to take a journey through the musical eras of her career. Appearing on Good Morning America, and through her social media accounts, Swift voiced she was "enchanted" to announce her next tour. The tour pays tribute to 17 years of music and her 10 studio albums. On March 17, in Glendale "Era-zona", 69,000 fans packed the State Farm Stadium for the stars' opening night.
Initially, the first leg of the tour would include just 27 dates, spanning across the United States. However, by popular demand, Swift added eight more U.S. shows, international stops, as well as another U.S. run through the West Coast in 2024. With 146 total shows, this makes the Eras Tour Swifts' most expansive tour yet.
Before the Eras Tour, Swift hadn't hit the stadiums since her Reputation tour, back in 2018. Due to the global pandemic, Swift had to cancel "Lover Fest", a tour set for 2020 that would celebrate her 7th studio album, Lover. Her anticipated return to the stage from fans helped her to become, "the highest-grossing female touring artist of all time," according to Billboard. Sophomore Cecilia Villa mentioned, "I've been a fan of Taylor Swift since I was 6 years old."
According to Ticketmaster, the Eras Tour sold the most tickets by an artist in a single day. Senior Madi Tribbit, explained that it was insanely difficult to purchase tickets, "My parents had every device in our house on the website just waiting until one got through."
The Eras Tour features a variety of opening performers including MUNA, Girl in Red, OWENN, Paramore, Beabadoobee, HAIM, Gracie Abrams, Phoebe Bridgers, and GAYLE. Swift announced on June 2nd that Sabrina Carpenter will be joining her as she makes stops through Mexico, Argentina, and Brazil.
The setlist of the Eras Tour consists of 44 songs for a production packed with enticing theatrics, incredible dancers, and at least 13 costume changes for each show. Swift continuously sings and dances for over 3 hours live, with no breaks or intermissions during the concert. Tribbit described her experience at the Eras Tour in one word, "Outstanding."
A fundamental part of the Eras Tour comes before the concert itself. Fans spend hours making friendship bracelets as a testament to a lyric from "You're on Your Own Kid". The song on Midnights, Swifts' 10th studio album, started the trend on social media, but led to fans bringing gallon sized bags full of bracelets to trade with other Swifties. By the end of the night, fans, security guards, and workers on the tour find themselves with their arms full of T-Swift inspired bracelets.
If you didn't get a chance to catch Swift on stage, or want to relive that magic, "Taylor Swift: The Eras Tour" concert film is coming to theaters in North America on October 13th. To the fans that didn't survive "the great Ticketmaster war", don't retire those friendship bracelets just yet.