American Heart Month Support at Oakdale High Red Out Games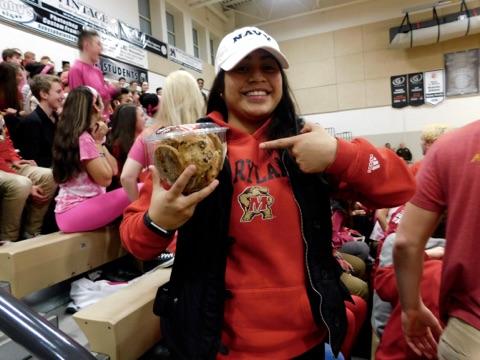 by Kiley King
On February 7th and 10th, the Oakdale High School basketball program hosted Red Outs to help support the American Heart Association.The girls team played on the 7th against Frederick, and the boys played on the 10th against Tuscarora, their rivals this year.The Student Government Association (SGA) organized the Red Out events.
There are two major reasons behind the Red Out dates. First, February is American Heart Month. Second, basketball games typically have "themes" like camo-out, white-out, so the Red Out theme fits in perfectly. A less major reason is that the basketball games have large turnouts, especially lately since it is the end of the season and playoffs are near.
The American Heart Association, an organization founded in 1924, is devoted to fighting heart disease and strokes. According to the American Heart Association website, www.heart.org, their mission statement is to build healthier lives free of cardiovascular diseases and strokes. The association offers CPR classes, and provides information to the public about living healthy lifestyles.
Oakdale High School's SGA meets every other Friday to discuss school events and what they can do to improve the community. To help at the Red Out, SGA members volunteer at the games to sell shirts, baked goods, or to receive and manage donations. To promote the Red Out, SGA members made posters and posted them around the school. Profits received go to the American Heart Association.
The SGA also has plans for future events in the Oakdale and local community: Mr. Oakdale, an event that will raise money for numerous foundations and organizations; Relay for Life, an event to help beat cancer; and the End-of-Year Carnival.
Stella Zodet, a member of the SGA, describes the Red Out and other school events that go to a better cause as "important for people to go out and support their small community that in turn helps a larger community." By supporting the local OHS Red Out games, people are indirectly supporting the American Heart Association.
An anonymous member of SGA explains that "SGA has cultivated a deep empowering program that encourages young minds to challenge themselves and reach unimaginable heights."
The boys basketball team is heading into the end-season and soon playoffs strong, being first in the conference, and girls team not far behind being fourth in the conference. The Red Out game against Tuscarora High School increased the student turnout and support, and led to a win against Tuscarora, who the boys lost to in the past.