Community exchange students return home as a result of the COVID19
This year, several Oakdale families became hosts for students through different foreign exchange programs taking place. Amidst the current COVID19 pandemic, exchange companies have returned many of these students to their home countries. 
Alessandro Mameli is a 17 year-old student from Italy who you might have seen in the hallways of Oakdale High School this school year. He was one of the students who has since returned home to Italy. He describes the quick leave and goodbye saying, "I didn't realize I was leaving until I was at the airport."
Jennifer Peterson is an international exchange coordinator for EF Exchange that was in charge of 4 students this year including Mameli. She explained that, "They[EF Exchange] communicated very well for the situation. It was an unprecedented situation for everybody." 
There is some skepticism from people arguing that students are safer or better off staying in the United States rather than returning home. As a matter of fact, if the student and both families agree for the student to stay, they can work with the company to do so. Peterson mentioned that, "There are kids still here in the United States. There are about 65 students left out of about 3,000 in the country because they made the decision to stay through EF."
Mameli has safely returned to Italy after three flights and has been reunited with his family. He says, "Streets are empty because it is completely shut down," in Italy. 
Although he enjoys seeing his family again he says he did not want to go home and wishes he could have completed his experience. His favorite thing about his American adventure was, "Learning how to speak English since when I arrived I couldn't even understand."
Due to his quick return home, Mameli along with many other foreign exchange students did not get to have a proper goodbye for the Oakdale community. He said, "I'm thankful that I was part of an amazing school such as Oakdale. Unfortunately my experience ended earlier and I haven't done stuff that I wanted to do such as playing on the tennis team. I'm sure that I will miss the U.S so much. Hopefully I'll come back some day."
https://www.state.gov/temporary-pause-of-international-exchange-programs-due-to-covid-19/
https://www.state.gov/coronavirus/
https://www.fredericknewspost.com/news/continuing_coverage/coronavirus/italian-exchange-student-in-frederick-told-to-return-home-despite/article_f2f89ae5-51e7-581d-a9ef-246d8d226c45.html
About the Writer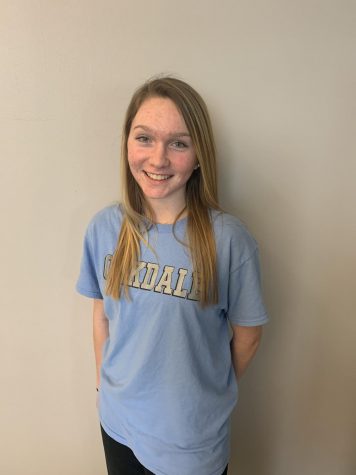 Sarah Thorssell, Writer
Sarah Thorssell is a sophomore at Oakdale High School in her first semester of journalism. She plays soccer and lacrosse for Oakdale and plans on going...