Covid Has Restricted Traveling Around The World―How Is It Affecting Us?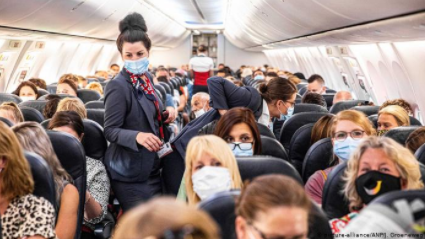 Covid has definitely made things tough for people everywhere. Traveling is something that people all do around the world whether it's by plane, car, train, or bus, and it has changed a lot in the past year and a half. People have been used to masks, gloves, and hand sanitizer everywhere!
The CDC recommends that people who are fully vaccinated wear a mask over their mouth and nose during air travel. If people are not fully vaccinated, it is recommended that they get tested before traveling, and after arriving. Wearing a mask over your nose and mouth is also recommended on any form of public transportation.
Jonell Caliskan, teacher and advisor of the travel club at Oakdale High School, went on a non-school affiliated trip to Costa Rica this summer. She stated, "We had to wear masks on the tour bus, we had to wear them in all the restaurants unless you sat down to eat.'
Caliskan goes on to explain that it was "because they were only at stage 1 with getting their elderly vaccinated, where we were already on the stage where you could get juveniles vaccinated."
With all of the CDC's recommendations and regulations, traveling is going to feel different. "The masks were a small adjustment but other than that there wasn't much of a difference," Oakdale high school junior Sophie Swanson commented.
Fellow Junior Brayden Budzenski added, "Also, when I flew earlier in Covid, the planes didn't allow the middle seat to be filled, so it was only two people every row that could usually hold 3 people to promote social distancing as much as possible."
How are airports actually dealing with all of this? The Official TSA website has informed that there will be social distancing, personal protective equipment, reduced physical contact, cleaning and disinfecting, and touchless technology when traveling between states and countries.
Caliskan mentioned, "I felt safe, I felt comfortable, besides wearing the masks―that was a little uncomfortable on the flight."
Swanson commented, "The staff made sure people were masked properly. There were also many places in the airports to buy masks, and they even had vending machines with Covid essentials (ex: masks, sanitizer, face shields, etc.)".
Dealing with all of this has been hard on everyone. However, as hard as it is, following the rules enforced in places while traveling is extremely important and necessary to travel safely.