Dungeons & Dragons Club Enables Students to Stay Connected Throughout the Pandemic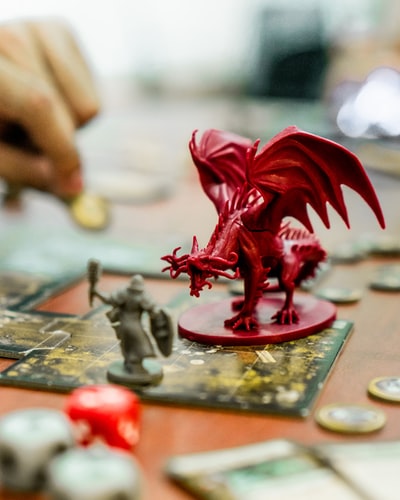 During the virtual and virtual-hybrid school models that were in place for the 2020–2021 school year, students weren't able to interact with each other in an in-person environment as much as they were used to in the past; however, many were still able to sustain connections with their peers thanks to Oakdale's Dungeons & Dragons (D&D) Club.
In 2020, when it was announced that the school year would be held online, there was a lot of confusion and anxiety regarding how that school year would function. One such topic of discussion that arose was if and how clubs would operate online. Fortunately, clubs were able to run virtually, albeit, with some limitations. 
For the D&D Club, these limitations made the club, as Senior Rae Brewer, who has been in the D&D club since their freshman year at Oakdale, called it, "more of a check-in to talk to others who had games going on, about the games, or  to bounce ideas [for the games] off of others." 
Despite this more hands-off year, however, Brewer mentioned that they still "really looked forward to getting to share with others, or hear others' stories."
Mr. Adam Corpora, the D&D Club's advisor since he joined Oakdale during the virtual-hybrid year, noted that, even with the unusual setting, the club was still "able to introduce a lot of students to the game." 
Brewer and Donovan Double, another senior who has been in the club since his freshman year, said that they were able to stay connected with the people they met in the club through the D&D club game sessions throughout the virtual school year and even into the summer. Double went on to comment that his club group "continuously met until just about school started," and Brewer remarked that they "actually still have a game going on right now with the same group."
The 2020–2021 school year forced the D&D Club to meet over video-communication services, like Google Meet, Zoom, or even instant messaging platform Discord outside of school hours. This school year, the club will resort back to its typical operation, with students meeting during SET every once in a while to discuss how their game sessions are progressing, but largely playing games outside of school, since D&D sessions can run on for a few hours. 
Corpora stated that he is "looking to meet after school once a week" with members of the club who wish to.
Adding to that, he referenced the change from virtual to in-person school, "D&D is fine online, but nothing beats rolling dice and laughing with your friends in person!"
The Dungeons & Dragons club is a place for people of varying outside interests and experience with the game to come together for a few hours at a time and enjoy each other's company. D&D typically involves plenty of books, rules, and dice rolls, but as Corpora puts it, "It can be as simple or as complicated as you'd like!" All you really need is an imagination and a want to play. And, dice would help.