Girls Outdoor Track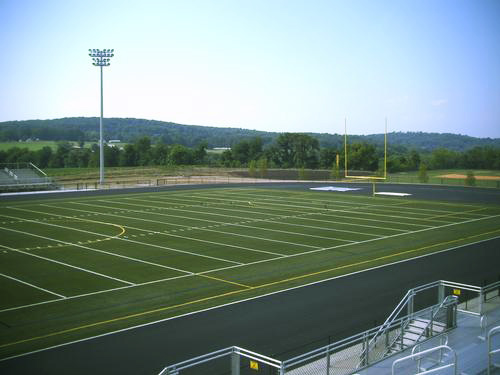 This year's girls track team is looking to have a promising season.  With an increase of over 25 girls, the team now has a variety of sprinters, mid distance, and long distance runners, along with throwers, jumpers, and pole vaulters. 
"It's a much bigger team," explains mid distance runner and Sophomore Haliey Hallenberg, "…maybe twice the size as last year, and I really think it's going to put us ahead when it comes to the other competition." 
There has also been a slight change to the coaching staff including the addition of Coach Dempsey. 
Last year the team lost five seniors, but junior captain Aubrey Shaffer doesn't see that as a problem, "We definitely lost some really good athletes last year, but I think that everybody has stepped up a lot. I've been really excited about how hard everyone has worked to fill those roles." 
Last year the team placed overall fifth at the Central Maryland Conference Championship, fourth overall at the Frederick County Championships, third overall at the 2A West Regional meet, and 13th overall at states. 
The team is feeling confident as Hallenberg describes, "My goals for the girls this year are tons of pr's, fantastic relay teams, and maybe even a regionals win! As long as we put our minds to it, I know we can get there." 
The team consists of girls from all grades ranging from freshman to seniors, and is already looking strong weeks before their first meet. Most girls participating in outdoor track also ran indoor track as well which helped prepare them for this upcoming season. "The team is looking fantastic! With all of the training a bunch of the girls have had from indoor, and all of the new girls from other sports, this is going to be one of the best teams we've had in awhile," comments Hallenberg. 
This year, however, already shows promise and improvement where during the indoor season the girls team was able to place second overall in the Frederick County Championships and fifth in the CMC Championships and sixth by only ten points in the 2A West Region Championship. With a season already out of the way and outdoor coming up next the majority of the girls have already been practicing together and welcome more runners as the year continues.