He's "Really Really" Getting Out This Time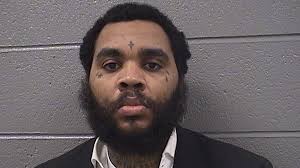 January 10th marks the end of an almost two-year long stint of prison time for Baton Rouge rapper, Kevin Gates, formally Kevin Gilyard.
Gates, 31, has enjoyed a successful career, garnering a net worth of $1.5 million since signing to local record label Dead Games Records. The artist behind hit songs such as "2 Phones" and "Really Really" has been nominated for several Billboard Music Awards, including one in 2017 for best rap album for the platinum Islah.
Gates was charged with battery in 2015 after he allegedly kicked a fan in the chest after she tugged at his pant leg to get his attention at a show. He was sentenced to 180 days. Immediately following the end of his sentence, Gates was slammed with an additional 30-month sentence attributed to an outstanding weapons-related warrant against him after several gun charges, including one for unlawful use of a weapon, putting him back in prison.
Gates has been imprisoned a total of four times now, twice before the age of 20. Despite this, his lawyer, Herschel Rush, insists Gates has turned over a new leaf and will now take to the community as an example to teens and hopefully "scare them straight," as Rush says per XXL Magazine.
"[Gates] will devote considerable time and resources to talking to troubled teens," explained Rush in an interview with TMZ. They report Gates will reach out to several organizations, including the Boys and Girls Clubs of America, among others. He plans to share regrettable childhood stories with the teens in hopes they won't make the same mistakes that he did when he was young and learn from him.
Along with charity, Gates has a wife, Dreka Haynes, to come home to and multiple children he calls his own, despite not being biologically related to him. "I send them money, buy them clothes, Jordans, iPads, everything. I take care of them," expressed a heartfelt Gates when speaking about his children. "Those kids have taught me a lot about life even if they don't know it," explained Gates to VLADTV in 2014.
Gates believes his prison time was humbling and taught him to not take things for granted when they come to him.
"I think [Gates] will be a changed man now that he's had all this time to think," expressed sophomore Canyon Zhang, a fan of Gates' music.