Is AAU Ruining Basketball Entirely?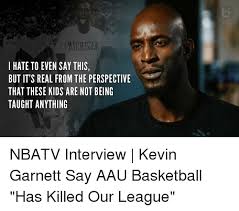 Are we seeing an end to team players in basketball? Are players more focused on personal stats rather than actually winning the game? AAU, or the Amateur Athletic Union, was founded in 1888 by James Edward Sullivan and is dedicated to the promotion and development of amateur basketball players. Unfortunately, some professional players and coaches believe that AAU is ruining novice stars. Players like Vince Carter, Kobe Bryant, Lebron James, and Dwight Howard believe that AAU forces players to only worry about their own stats rather than the team winning the game.
Kevin Garnett, a former NBA player, makes the claim,"These kids are not being taught anything". Garnett went from high school straight to the NBA. During his 21 seasons as a professional, Garnett has seen the league change in many ways, but not for the best.
Garnett states that kids are "not learning anything in AAU that you would need in the NBA", and that kids are taught to be selfish instead of teammates in the NBA. Kevin Garnett understands there is no alternative to AAU for most players.
On the other hand, former head coach Earl Watson states, "AAU basketball is about a lot more than winning basketball games". Watson believes the organization prioritizes exposure and player development and is the "only way that many high school athletes can be recognized by college coaches".
It's much easier to be scouted by college coaches living in California than it is in Montana. Watson believes the AAU gives these kids who live in rural areas a better chance of playing college or professional basketball. Watson also believes that without AAU overlooked and underrated players from rural areas will never have the opportunity to play at the collegiate level.
Simeon Nelson, a junior at Oakdale High School, has played AAU for a couple of years and describes that "AAU is a great way to get exposure, but does in fact ruin team play." Nelson argues both sides of this topic and believes that "no matter how corrupt AAU could be for basketball players, the league will continue because of the opportunity that it gives underrated players."
Jacob Ward, a senior at Oakdale High School, has played both high school and AAU basketball for many years. Ward argues against Garnett, expressing, "Players learn a lot about basketball by playing AAU. Competition is much stronger and AAU will force you to adjust your game to ensure that you will become the best basketball player that you can be".
Ward also states that "Without AAU, small basketball areas like Frederick, Boonsboro, and Catoctin would never have a chance to play in college. Division 1 athletes would barely be looked at by a Division 3 school if it were not for AAU."