IT Returns After 27 Years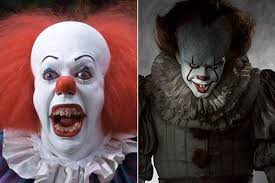 Is "IT" truly terrifying? Are we expecting the greatest horror movie in years? Stephen King's "IT" came out September 7. The book was released in 1986, while the miniseries was released in 1990, making this new movie appear right on schedule. In the book, It  only appears after twenty-seven years of hibernation. Well, it's been twenty- seven years since the mini series, and here we are in 2017 waiting to see this remake of Stephen King's terrifying novel.
Many were expecting the opening weekend sales to reach up to 80 million, but the actual sales reached 123.1 million, setting an all time record for a horror movie. Not only did the movie break records for the opening weekend, but the trailer itself set a new record for most views for a trailer on YouTube, surpassing The Fate Of The Furious, another movie that came out in 2017.  
As a remake, most viewers predict this movie to have a couple of differences from the original, the first being the starring role of "IT". Bill Skarsgard is playing the role of Pennywise The Dancing Clown in the new movie. Many were concerned about his performance compared to Tim Curry's in the original. Curry was said to be the only reason why the 1990 mini series was televised, making many wonder if Skarsgard would be able to deliver the same performance.
Sara Ghaffari, a senior at Oakdale high school, said that the old miniseries was "more mysterious than creepy, but it was still a good movie". She stated that IT has been a movie that she is really excited to see. Ghaffari exclaimed that the miniseries was very long as it's only downside, as the movie lasted three hours.
Another individual that was interviewed was Devon Truelove, a senior at Oakdale High School. Unlike Ghaffari, Truelove went to see the new IT movie. Truelove had similar feelings about the new movie as Ghafferi did the old movie. Truelove believed that the movie was phenomenal, and it drew the viewer in more than ever. He believed that the movie could not have been more terrifying, also saying that there were not many difficulties for following the movie because of its constant intensity throughout the movie.
Truelove also stated that Skarsgard was a perfect fit for IT in the movie. Truelove never thought of seeing Skarsgard, only the clown. Truelove was  if he had seen or read any other books by Stephen King. He said that he had seen the The Green Mile, another movie by King that was actually not categorized as horror.
Highly recommend seeing IT, you will not be disappointed, which continues as the number 1 movie for a second weekend.