"King" of Cinema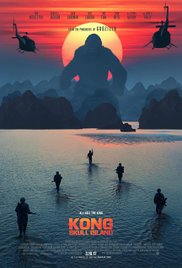 by Andrew McCollum
The explosive new hit in the King Kong series, Kong: Skull Island is directed by Jordan Vogt-Roberts. This new film brings the viewers on an exciting journey with the latest special effects in the cinema industry and an awe-inspiring look at the origins of the classic tale.
The film starts off during the second world war as a crashed American pilot unknowingly faces off against an opposing Japanese aviator on an island as it is soon revealed that they are not alone. This gives a proper entrance to the legend himself "King Kong" as it turns out this is the island on which he lives. The film then skips thirty years later to the Vietnam war era to introduce the main cast of characters. These characters include Lieutenant Colonel Preston Packard played by Samuel L. Jackson and his group of soldiers, photojournalist Mason Weaver played by Brie Larson, tracker James Conrad played by Tom Hiddleston, and investigative adventurers Bill Randa and Houston Brooks played by John Goodman and Corey Hawkins.
The film gives an interesting backstory of why the team is trying to find the mythical Skull Island and slowly unveils the mystery of why Kong is on the island in the first place. The film goes deep into the jungles of the island to show new species in the King Kong universe.This gives an interesting twist to the series revealing that "King Kong" is not the only animal of his size on the island. There is also a moment at the end of the credits giving a connection to the newest Godzilla movie released in 2014 leading to a cliffhanger; this hints at these movies merging into each other in the future to be in the same film universe.
Oakdale High School Senior Daniel Brubaker thought this was a good addition to the series; he replied, "I was a little bit skeptical at first because I didn't think it would compare to the original but after viewing it I am glad they are bringing back this series." Brubaker added, "I would recommend seeing this movie to get into the series since more movies will be coming out in the future."
Overall this film is a great addition to the series and will keep fans expecting more to come. It is good to revive the series for the newer generation of teens who may not have an interest in the older films because of the outdated special effects or original storyline, which allows this film to spark an interest among high school students.