Line Up Because Black Friday is Back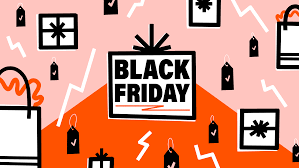 Grey Bavender, Writer
December 7, 2021
Black Friday, the day after Thanksgiving, was a time where shops offer highly promoted sales at very low prices. Stores often open as early as midnight.  Deals this good only happen once a year.  It causes numerous chaotic interactions between shoppers and employees. These low prices pressure shoppers to be very violent, starting to cause stampedes which would leave many injured or dead.
With Christmas right around the corner people are trying to get everything they can for a lower price. Many people are planning on shopping on this nerve-racking day. Corryn White, a junior, was questioned how shoppers can stay safe while Black Friday shopping; in which she replied, ¨By practicing social distancing as much as possible and avoiding large and possibly violent crowds.¨ 
While Lexi Parisi, a sophomore, thought of a different approach by suggesting, ¨you can take the safer route by shopping online.¨ 
Even though shopping isn't always violent or dangerous, if you decided to shop at a later time, several stores had shelves that were deserted or empty.
 Last year on Black Friday, it was recorded that electronic devices were the most searched products . White and Parisi were on a similar page when discussing the most frequently bought items. 
White believed that coffee makers were very popular Black Friday purchases. She expressed, ¨People love their coffee and when they're not in line for Starbucks or Dunkin' donuts they're at home making it.¨ 
While Parisi supposed that televisions and computers were more popular. She explained, ¨They are the most frequently asked items when it comes to christmas gifts.¨ 
Parisi experienced what it was actually like to go Black Friday shopping. She claimed, ¨I remember seeing a lot of people and it was always crowded. I was disappointed to see that there was no stereotypical mom fighting but there was a lot of pushing.¨
Even though Black Friday can have major conflicts, it was a perfect opportunity for holiday shopping for your loved ones. With Christmas coming up, parents are willing to do anything to get gifts on sale.