National Anthem Sparks Controversy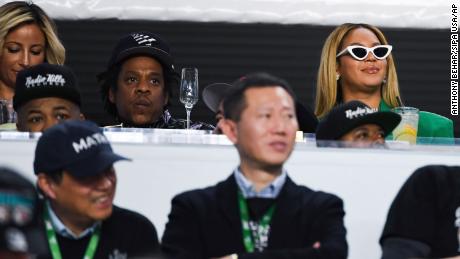 Beyonce and Jay-Z drew attention as they sat during the National Anthem at Super Bowl LIV in Miami on Sunday, February 2.
TMZ released footage of the celebrity couple remaining seated as Demi Lovato performed the National Anthem. The video shows other fans sitting and standing, but the main focus is directed towards Beyonce and Jay-Z. The video got an immediate reaction as many people despised the couple's action, while others defended it. 
Former quarterback of the San Francisco 49ers Colin Kaepernick started a movement of sitting during the national anthem as opposed to the tradition to stand. He did this to protest the treatment of African Americans in the United States. Once Kaepernick began the protest, other players and people in the stands followed.  
On Tuesday, February 4th after the Super Bowl, Jay-Z was asked in front of a classroom of students at Columbia University whether remaining seated was meant to convey a statement. He explained that it wasn't his intention to stay seated; Beyonce and he were simply focused on the singing and forgot to stand. 
Jay-Z has a message for the publicity saying Beyonce and him were not protesting during the National Anthem: "It actually wasn't. Sorry."
Jay-Z explains the situation in a later interview, "So the whole time we're sitting there, we're talking about the performance, and then right after that, Demi comes out and we're talking about how beautiful she looked, and how she sounds and what she's going through, and her life — for her to be on the stage, we were so proud of her. And then it finished and then my phone rang. And it was like, 'You know you didn't … I'm like, 'What?'"
Jay-Z added that he would never pull a protest stunt in the presence of his daughter, Blue Ivy who was seated next to them at the Super Bowl. He explained they would never put her in the position to protest at such a young age. 
After hearing Jay-Z's response to the media explaining that it wasn't a protest, Senior Maddie Miller explained that "they were just chickening out after people disliked their actions." 
When TMZ released the footage of Jay-Z and Beyonce sitting during the National Anthem, Senior Patrick Howk declared that "the Jay-Z and Beyonce situation was a very hypocritical moment." 
Beyonce and Jay-Z have surely changed peoples opinions on them after sitting during the National Anthem at Super Bowl LIV in Miami on Sunday. Media will be talking about this action as a form of protest for months to come.
#SuperBowlProtests #NationalAnthem