NYE, A Beginning New to Any Other Year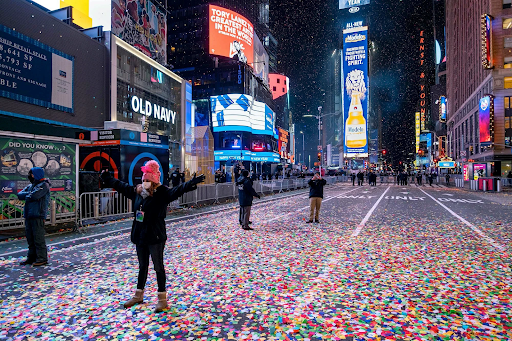 Many are eager to leave the year 2020 in the past, the typical New Year's Eve traditions sadly were left behind as well. New York Times Square, typically roaring with thousands of people celebrating and kissing when the clock strikes midnight, left barren with only a few passing by to get to their apartments. Immediately the celebrating mood was held at a halt as 2020's charades were determined to stick around for the new year.
However with the pandemic almost reaching a whole year, many have adjusted to do the best they can to keep up socially. Two Seniors, Olivia Van Scoyoc and Sienna Carey have different but similar approaches to keep their New Year celebration entertaining. 
Van Scoyoc explains she spent her night with "a few close friends and family." Although stating she "would've loved to see more people and friends that are home from college," Van Scoyoc was prevented from doing so by the risk of Covid-19 exposure.
People all have their different inputs about small gatherings during this time; however, Van Scoyoc exclaims it is not selfish "if it's a small group of people you see regularly and is kept under the limit," a method many have chosen to do in efforts to stay connected to friends and family.
Trying her best to have fun, Van Scoyoc finally says her New Year's Eve "felt  different than usual since there were no people in Time Square. It felt off." A scene no one has ever seen until this upcoming year.
The next Senior, Sienna Carey, spent New Year's in a slightly different way. Carey mentions she "stayed at [her] boyfriend's house and only hung out with him and his family." 
She adds that she wished she "could've hung out with all [her] friends and celebrated with them," but due to family members being high-risk, she kept her exposure low as she has spent the pandemic with her boyfriend. 
Due to some being high risk, Carey explains "this year was different. We did not get to see extended family and only saw immediate family," as Covid-19 could potentially be a deadly threat. 
The effort to stay safe while also socially stimulated is a challenge many are suffering with during these unprecedented times, especially during one of the most socially celebrated holidays, New Year's Eve. However, everybody is looking to a better year as the dreaded year, 2020, has finally come to an end. Cheers to 2021!