Oakdale's Favorite Holiday Food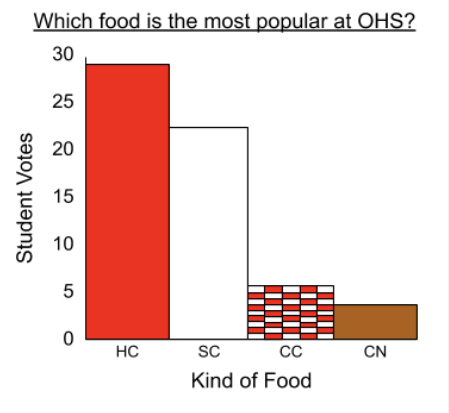 If you had to choose between hot chocolate, sugar cookies, chestnuts, and candy canes as your favorite holiday food, which would you choose?  Hot chocolate for its warmth, or maybe candy canes for their sweetness?
The students at OHS have some opinions on the subject, and a recent winter survey yields interesting results.
Out of every choice, 48% of all students chose hot chocolate as their favorite holiday food, followed by 37% sugar cookies, 10% candy canes, and 5% chestnuts.
But why?
The answer may lie with the students who took the survey, launching into heated debates about why their decision was the strongest.
Two students from OHS, Lauren Hnilo, a sophomore, and Kadin Weatherholt, a senior, explained the reasoning behind their choices.
"Hot chocolate's the best because it's so cold outside. You can drink some warm hot chocolate to warm your body up," explained Hnilo.  A light dusting of snow had fallen that day, and through more research, many of those who'd taken the survey brewed up hot chocolate just for this purpose.
Weatherholt agreed, declaring hot chocolate "a timeless classic."
A timeless classic.  What fitting words.
Hot chocolate has its own history, one that relates to the season. How it was invented. What caused it to be Americanized and mass produced. What enabled it to wind up where you live!
Drinking chocolate dates all the way back to Aztec, Mayan, and Olmec culture, when the cacao tree was first discovered and harvested for it's bitter bean. It was served cold as a ceremonial and medicinal beverage, combined with water, herbs, and spices to become something known as Xocolatl. It grew as a sacred drink in South America.
Chocolate as we know it (in bar form, or in this case, a sweetened drink) didn't truly emerge until the mid-1800s, when a family in Europe added the first sugar and milk to a batch, revolutionizing chocolate into the sweet, delicious food we all know today.
Hot chocolate was developed over the years by major companies, including Hershey's, Toblerone, and Ghirdardelli until it was perfected enough to be mass produced in modern society.  Switzerland, West Africa, and Belgium all came to be famous for it, though cacao plantations in Guanah are also notorious for its creation.
Overall, the history of chocolate may contribute to its success in winter, and why out of all of the other options, a warm drink on a cold day truly amounts to  "a timeless classic."