Oakdale's first play in two years: Rock of Ages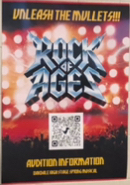 After two years, Oakdale is having its first theatrical performance since the pandemic began: Rock of Ages. The play is being directed by Michael Copen, the theater director for Oakdale High School, and Riley Frutiger, the student director and stage manager. 
Rock of Ages is a "jukebox musical" of songs from the 1980's. Copen summarizes, "It's about living on the Sunset Strip in the 80's when air metal is all the rage. I picked this musical because it is fun, and we wanted to rock."
The musical features songs from bands including Poison, White Snake, Mötley Crüe, Styx, Journey, and more. 
The musical first launched on April 7, 2009 on Broadway. It was nominated for the 2009 Tony Awards and was later named the 29th longest-running show in Broadway history.
The musical was based off of the 2012 movie written by Chris D'Arienzo and directed by Adam Shankman. The movie is rated PG-13 but there are inappropriate scenes so Oakdale uses the "teen edition" which drops the note of the songs so it is easier for teens to sing, and changes some parts to be school appropriate. 
Frutiger goes on to say, "We are doing the teen edition because we can't do the original edition. It is just the high school edition. Things have changed so it is appropriate for school. No big changes, just little differences." 
In the Broadway musical, one of the characters "breaks the fourth wall." "Lonnie, the narrator, still breaks the fourth wall. She talks to the audience a little bit, " continues Frutiger. 
"This will be our only play for this school year. It is our first show back after 2 years, some of these kids haven't done a show since 6th grade," Copen explains.
Oakdale students have never performed this play before. Copen expressed, "It feels great to be back, we can't wait to get out there again! We are going to rock and roll, and it's going to be loud!"
The performances will be on March 17, 18, and 19. At 7:00. Don't miss it!