Sam Starrs for Student Member of the Board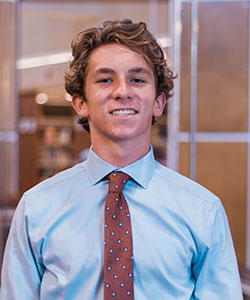 Sam Stars is a sophomore at Oakdale High School and is a great role model for many people in and out of school. He is running for Student Member of the Board (SMOB) and has worked hard to get to this stage. 
SMOB is a position in the Board of Education held by students in FCPS. The elected student goes to board meetings and aids in making board decisions. Starrs stated, "The first time I saw an ad in 2016 it has always been my goal." He has wanted to become this for many years and now is his chance.
Starrs affects many people around him, even his high school soccer coach, Carey Frye, who has coached him for the past two years. Frye emotionally explained, "He is one of the most motivated individuals I've met, his ability and desire to improve makes him a better athlete and most importantly a better person." This shows how Starrs has reached such a high point in the SMOB competition.
Frye also believes Starrs should win SMOB because, "He represents his fellow students very well, [and] takes responsibility very seriously for his family and friends. He is very committed to things that improve him."  
Starrs believes everyone at Oakdale should vote for him because it is the first time an Oakdale student is representing in six years. Starrs explained, "I believe my platform aligns with many Oakdale students concerns." Starrs' main motive to become SMOB is to increase mental awareness and school safety. 
Starrs is doing what the people want because his fellow students and friends are very important to him. Starrs understands high school is very tough for students and wants to help all he can. 
Will Starrs prevail in the votes and become the first Oakdale Student to become a Student Member of the Board in six years? Vote for him by February 7th!