School Lunch Review: All You Need to Know About the OHS Cafeteria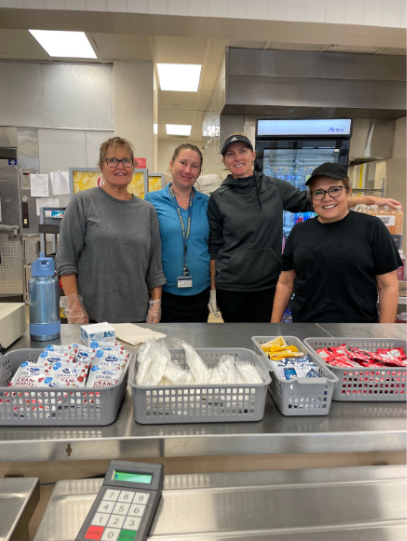 Next to breakfast, lunch is considered the most important meal of the day, especially for high school students. Eating lunch gives students the energy that they need for the rest of their day, but this gives the lunch staff a greater responsibility of  feeding the entire school every day.
The real question though, is purchasing  school lunch even worth it? For some students at Oakdale High School, the school's cafeteria food is their only option for lunch. After surveying randomly selected students that attend OHS, the results were intriguing. 
53.2% of students bring their own lunch to school, 27.7 %  buy lunch at school, 19.1% do not  eat lunch, and 19.1% buy snacks but not a meal. Half of the students surveyed said they would buy school lunches if they were "better." Kids who don't buy lunch said "it's too gross, too expensive and the line is way too long." 
Many students think the lunch period isn't long enough. Laurel Sutherin, a sophomore, thinks that lunch should be 40-45 minutes. 
Last year, matters were worse since lunch was free because of Covid-19. Ms. Weingard, a lunch lady at OHS said, "Well this year it was a big thing to adapt to, because we had free lunches last year and we were doing a lot more." 
Being a part of the cafeteria staff is a challenging  job, but it also gives the staff an opportunity to get to know the students better. Weingard explains,"I get to learn kids' names and talk to them about what sports or activities they do." 
Although some students don't particularly love the lunch, the snacks are definitely worth purchasing. The chip selection is one of their most popular snacks and one of the best parts of the lunch line. Weingard shared that the most popular items are the Ice drinks, salt and vinegar chips, fudge brownie cookies and the confetti cookies. 
So, is purchasing from the cafeteria worth it? According to the students of Oakdale High School, it depends on the day. The lunches are a hit or miss, but the snacks never disappoint. The next time you check out the OHS cafeteria, make sure to thank your lunch ladies for all their hard work!