Spider-Man: No Way Home Review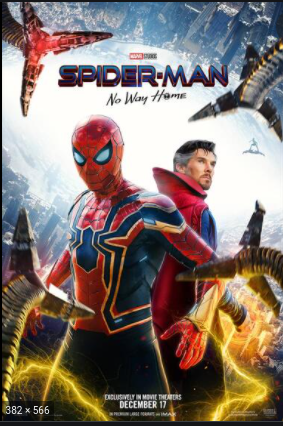 A lot of people thought that Spider-Man: No Way Home (Spider-Man: NWH) was going to be the best Marvel movie ever, and they were right. With returning villains and Spider-Men from previous reboots, this movie will definitely be one of if not the best Marvel movie of all time. 
Where it chose to begin and then how it developed more deeplyr into the plot just made this movie an exhilarating experience.. It also made this movie a top 10 with all the animations and graphics that they put into this movie.
They picked up where Spriderman: Far From Home left off with the whole world knowing that Spider-man is Peter Parker and that makes this a big problem in the movie.
As the movie plot thickens,they start to have problems with old villains from old movies and that just causes even more problems. Towards the end there was a way to solve Peter Parker's problem by making everyone forget that Spider-Man is Peter Parker.
I feel like this movie had a lot of people excited and goosebumps with everything happening, but there were also some parts where the movie was a little sad in some ways.
As Spider-Man, the science genius Peter Parker swings from building to building as the champion of the innocent. For the Marvel Chairman Emeritus Stan Lee, Spider-Man was one of his favorite co-creations.
Stan Lee, the creator of The Marvel Universe made Spider-Man in 1962 on a comic book that now the first Spider-Man Comic has set a record for $3.6 Million.
On Rotten Tomatoes, Spider-Man: No Way Home got a 93% Tomatometer and a 98% audience score. This score is probably one of the best scores of a movie that you will ever see.
According to Freshman Matteo Araya, "Tobey Maquire was the original Spider-Man and was my Favorite Spider-Man of all time."
Tobey Maguire was the first original Spider-Man of the Marvel Franchise with three movies, and Spider-Man 2 was the best with Rotten Tomatoes and fans just liked it more.
According to Freshman Fabrizio Benavides: "Andrew Garfield I felt his Spider-Man in the movies was more interesting and we didn't get to see him as much as Tobey and Tom."
Andrew Garfield was the second original Spider-Man of the Marvel Franchise with not as much success as previous movies, but still had some popularity among fans.
Making these movies with old villains and Spider-Men from the older movies was an amazing experience to watch. It also brought a lot of joy to fans and made the movie a top ten of all time.
Sony's epic finale in the Tom Holland-led comic book trilogy collected a mind-blowing $260 million in North American theaters over the weekend, above Sunday's estimates of $253 million.
This means that "No Way Home" has now surpassed "Avengers: Infinity War" ($257 million) to land the second-biggest debut in Hollywood history behind only "Avengers: Endgame" ($357 million). Not bad for pandemic times. 
At the end of the movie we got an after credit scene with Eddie Brock(Tom Hardy) and Venom discussing what happened with the blip and everything and how he does not remember anything.
So he had to go and talk to Spider-Man or Peter Parker but as he was about to get up he vanished into nothing and a little piece of a symbiote was left behind.
Maybe this means that in the next Marvel Movie Spider-Man will get attached to Venom or him and Eddie Brock will have to fight or team up who knows how the next Spider-Man Movie will end up.
As the movie progresses with ratings and views, Spider-Man No Way Home just hit $1.53 Billion Worldwide placing it at eighth-highest grossing movie ever at global hot box.
Spider-Man No Way Home will no doubt be one of Marvel's best movies of all time.