The Monolith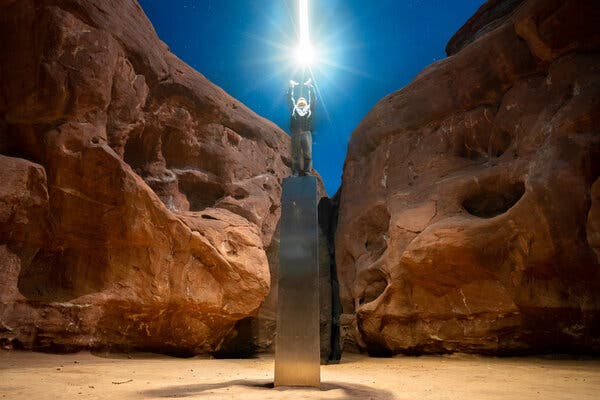 What is a Monolith?  A lot of people don't know much about it.  Olivia Tehann, a sophomore at Oakdale High School replied, "No I have not." when asked if she had heard of the Monolith.  
Marissa Riddell, another OHS student states, "I have [heard of it, but] I haven't heard much about it." 
A Monolith is a single great stone often in the form of an obelisk or column.  There have been sightings of a mysterious triangular shaped metal structure that people are calling the Monolith.  There are several different theories about where it came from, ranging from artists  to aliens.  
The first Monolith was discovered on November 18th, 2020 discovered in Utah's remote Red Rock Country.  It was spotted by luck when a helicopter passed over it.  Sources say that it was placed in late 2015 to early 2016.  The Utah Department of Public Safety announced the discovery of the monolith on November 23rd.  After gaining much popularity from the public it vanished on November 27th.
This only intrigued people more.  The search began and was shortly ended when on November 28th Andrei Carabelea, the mayor of Piatra Neamt, Romania, welcomed the discovery of a monolith in his city. This structure looked very similar to the one that had just disappeared in Utah.  
But much like it did in Utah, it didn't stay for long. It disappeared yet again on December 1st. 
Also on December 1st a travel photographer by the name of Ross Bernards revealed he was on site when four unidentified men showed up to remove the Utah Monolith.  A couple days later, he said he spoke with one of the men responsible for the removal. This unidentified man said they removed it for many reasons, including to respect the land. In a YouTube video posted the same day, Utah residents Andy Lewis and Sylvan Christensen stepped forward as being part of the team who removed the Utah monolith.
This may have just been a publicity stunt or a way for people to get their name in the paper but nonetheless it didn't stop the Monolith from showing up again.  On December 2nd yet another monolith was discovered on a hiking trail in Atascadero, Southern California.  But as quickly as it showed up it disappeared again.  Vanishing from the trail on December 3rd just a day after it showed up.
More sightings followed on December 6th to 7th when the Los Angeles Times and The Tribune, a local newspaper, reported the county's second monolith was spotted in Los Padres National Forest. And on December 7th according to reports from Sky News, a similar sculpture was spotted that weekend on the Isle of Wight's Compton Beach, located off the southern coast of England.  
This led people to speculate whether the Monolith was moving around or if people were creating copycats to bring publicity to their city.  Theories started rising and were three that stood out the most.  
The first theory is the monolith could be a leftover prop from a film. The Canyonlands National Park is a relatively popular filming area, from big budget films like Mission Impossible 2 to HBO's Westworld.  These films were filming in a nearby location in 2016. Given the Monolith's futuristic look, it makes sense that the Westworld crew may have forgotten to pack everything up properly.  Some people are also saying that it was Kubrick's inside joke to play on the world.
Another theory is that the Monolith is the work of John McCracken.  The David Zwirner gallery, which sources say represents his estate tweeted, "The portal to Utah is at David Zwirner 20th Street," But there's one flaw in this theory, with McCracken having passed away in 2011.  This would have made it impossible for him to have placed the Monolith there because he was already dead by the time the Monolith was supposedly placed in 2016.  
The third theory is that aliens created the sculpture and this was their way of coming into contact with Earth. With the way 2020 has been going so far people wouldn't be surprised if that's what it was.  Rhian Evans, a sophomore at OHS believes that, "if it is aliens they're either going to save us, or kill us and honestly if they kill us it's 2020 who would be surprised at this point."
These are just theories so there is no definitive answer on what the Monolith is and who or what made it.  Was it man made or was it aliens?  The world may never know.  With 2020 being the roller coaster that it was the Monolith is just another loop.