The Seven Husbands of Evelyn Hugo Book Review (Spoiler Alert)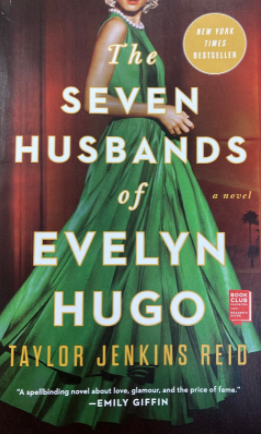 The Seven Husbands of Evelyn Hugo, written by Taylor Jenkins Reid, is a New York Times bestseller that was published in 2017. It's recently gained popularity among young adults after going viral on social media. 
The story follows Monique Grant, a struggling reporter living in New York City, as she interviews award-winning actress, Evelyn Hugo, for a biography to be released once she dies. 
Evelyn tells Monique every detail about her rise to fame, including how she moved to Hollywood after living with her abusive father in Hell's Kitchen, and how she had seven husbands, but never got to be with her true love. 
She gave up what she really wanted and married Ernie Diaz, Don Adler, Mick Riva, Rex North, Harry Cameron, Max Girard, and finally Robert Jamison to increase her fame and protect the woman she really loved, Celia St. James, until it was too late.
But as Evelyn tells Monique her life story she finds out the real reason she was called to interview Evelyn, and how their stories connect.
With plot twists and characters you will fall in love with, this book was a very enjoyable read. Sophomore Marie Ireland agrees by saying, "You develop a lot of emotion for the characters, and you're invested in what happens next."
One of these characters, Harry Cameron, was a fan favorite, as Ireland continued, "My favorite character was Harry Cameron, who in my opinion, was the best husband for Evelyn because he was a good person who was with her through everything, and she actually loved him and could trust him with everything." 
Brynn Ohlhoff, a sophomore, carried on by saying, "My least favorite part of the book was when Harry died because he was one of my favorite characters and I felt sorry for Evelyn and her family."
Throughout the book, Cameron was there for Hugo with everything, and he was the one she truly loved, so it's no surprise the readers felt this way. However, she was only with Harry to be with the woman she really loved, Celia St. James, which gave the message to always be yourself. Throughout Evelyn's life, she was constantly hiding who she was, which she ended up regretting because it made her so unhappy. 
Ohlhoff explained, "I don't agree with everything Evelyn did for fame because it made her happy at first, but she ended up regretting it because she gave up who she really was, and missed out on the love of her life."
Overall, this was a fantastic book that anyone will enjoy, and should be next on your list of books to read.