Thunberg's Climate Change Effects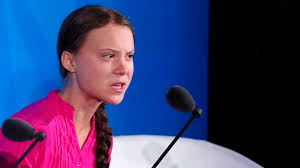 A climate activist taking a stand at a young age was completely unknown to the world less than a year ago. That didn't stop 16 year old Greta Thunberg from making her mark and spreading awareness to the global epidemic that's seemingly inevitable: climate change. 
From the age of 15, Thunberg took time off school to protest in front of Riksdag (Parliament of Sweden) in Stockholm stating she would continue her protest until her own country reduced the carbon output in line with the Treaty of Paris. This is the point when her actions began to gain notice to the world.
What really stood out about Thunberg was her non-passive aggressive approach to getting her point across. An example: the pamphlets she passed out at her protest in front of The House of Parliament: "I am doing this because you adults are shitting on my future." Part of her reason for this attitude – not only her passion – is because of her diagnosis of ASD or it's older, more renowned term, Aspergers.
Thunberg's most recent, and prominent stand, is her speech at the United Nation Climate Action Summit in New York City on September 23 In her speech to the world leaders she says, "For more than 30 years, the science has been crystal clear. How dare you continue to look away and come here saying that you are doing enough, when the politics and solutions needed are still nowhere in sight." According to Thunberg, the effects of climate change will be irreversible in 8 years or less. 
According to Natalia Alverado, a Freshman, irreversible climate change would lead to: "A limit of species variety, which would cause the food chain to collapse." 
Alverado also says that earth will be "uninhabitable by 2050." UN Secretary,  General Antonio Guterres, is putting plans to upgrade their international carbon-emissions goal by 2020 set in the Treaty of Paris.
After this speech to the world leaders, Thunberg joined 15 other young activists to file a legal complaint to five of the most polluted countries in the world: Brazil, Argentina, Frace, Germany, and Turkey. Their inactivity to climate change violates the rights of a child. The right to file a complaint to the UN as a child had been active since 2014. 
In the coming months, Thunberg plans to travel throughout the US, Canada, and Mexico, then attend the annual UN Climate Change Conference in Santiago, Chile. More is expected to come out of thunberg as her fight against climate change progresses.