Toys For Tots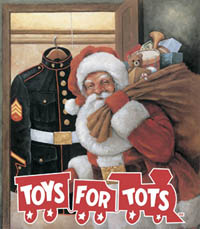 Justin Friday:
Honor societies have always been important here at Oakdale, but in this time of giving we hold groups like the Rho Kappa social studies honor society close to our hearts. Rho Kappa is working with the Marines, to organizing Toys for Tots here in Oakdale High School, helping children in Frederick get the merry Christmas they deserve.
Toys for Tots is a toy collection drive operated by the Marine Corp. The toys collected all go to local children whose families can't afford to get them toys for Christmas.
"We like that we get to see the results of the
charity, it's really cool that the toys all go to kids in Frederick" said Service Coordinator Travis Dover who helped to spearhead the toy drive. "We're also going to Arlington Cemetery to put wreaths on the graves on the 17th, anyone who wants to come is welcomed"
The drive may be over, but it's not too late to visit 1276 Base Rd, Frederick, MD 21702 to donate your toys in person or visit http://frederick-md.toysfortots.org/local-coordinator-sites/lco-sites/default.aspx to learn more about how you can get involved.