What Will Happen After High School?
by Emily Jerez
Senior year can possibly be considered the most stressful nine months of a teenager's high school career. There are so many things that pupils need to start thinking about, such as: SAT scores, college applications, and teacher recommendations. Some students do not even know what they want to do in the future; there are so many options and decisions that have to be made. Some students will decide to go to a two to four year college, some may join the military, or some may temporarily stop going to school in order to work.
The one thing that has been made less stressful for seniors this year is the college application process. With the help of Naviance, a website that keeps every student's grades, G.P.A., teacher recommendation letters, and transcripts under one site, a student can easily and efficiently apply to any university of his/her choice.
"Naviance was purchased by Frederick County Public Schools to improve College and Career Readiness for students. It is being used across all grade levels, beginning in middle school. Several high schools piloted the college application document-gathering last year and now all FCPS high schools are utilizing it for college documents. The program is user-friendly, and students have an easier time tracking the documents required for college applications – transcripts, letters of recommendation. Now students are able to see if their documents have been uploaded and sent to their prospective colleges." Ms. Ketteringham answered when asked about the switch to Naviance.
"I love Naviance, it is so easy to use and it's awesome that I don't have to go through the hassle of printing and sending all my applications through the mail."  stated Oakdale Senior Erika Benswanger.
"I plan on continuing my education and attending school at the University of Maryland – College Park. I am really excited for next year!" Oakdale Senior Gabby Redpath explains about her plans after high school.
When twenty-five OHS seniors were asked about their plans after senior year, more than half said they will attend a four year university, 20% will attend FCC for two years and then transfer to a four year college; and only 1 will join the military, although this is a small sampling.
If there are any seniors who do not know what they want to do after high school, maybe it would be a good idea to go to a community college and figure out what they are interested in.
Although senior year may seem stressful, there are also special dates to look forward to, including prom, graduation, senior week, and ultimately the freedom that will result when starting a new chapter in life.
Explore Naviance at http://connection.naviance.com/oakdalehs
Sign in by using 8 digit student ID as User-Id and password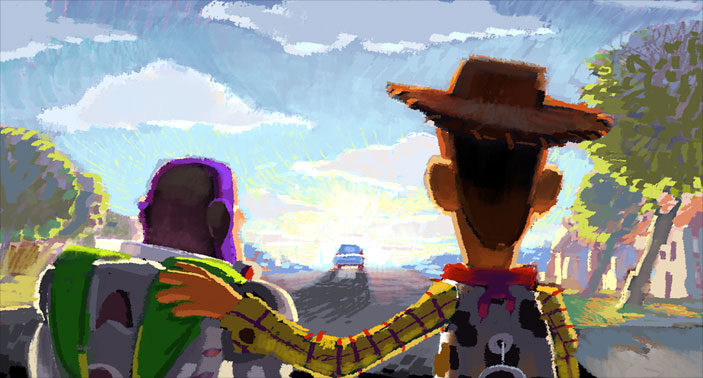 Photo Courtesy of mycolortheory.blogspot.com
A remake of the final scene in Toy Story 3 where Andy goes to College.