Winter Solstice in Carroll Creek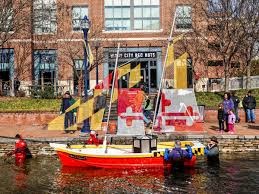 Sailing through the winter solstice is an annual event in Frederick Maryland. This is the 5th year of the celebrations of which small boats are anchored into the creek that are then left for months to show and be voted on. The Friends of Carroll Creek Urban Park as well as Colors on the Creek program run this event.
Color on the Creek will soon have a website where you can choose and vote for your favorite boat and 80% of the proceeds go to the charity of the boat's sponsors choice, while the other 20% goes to a fund for next year's event. This is a unique event that lasts over 2 months while many other events and attractions last less time and the planning takes almost 10 months making this a year long planning event. 
Many small businesses downtown participate in the winter solstice as it boosts foot traffic and brings more people downtown, into restaurants.
"I never knew they were a part of a competition," said Jordyn Mitchell, an OHS student. 
Growing very quickly, the slots are filling up and demand for boats keeps going up, next year the creek is expected to be full. 
Donations are not just for the vote, donate more than $2,000 and you'll be entered into a raffle to receive a free weekend at Deep Creek Lake. 
"Yes , I've seen them, they're beautiful and so wonderfully light up" Noted Ethan Simpson. 
Anyone is able to design or help and every year it is made so the boats are not always the same. Some boats take inspiration from bigger art pieces for example this year there is a boat with a sail that resembles a starry night. 
Downtown Frederick is known for Sailing Through the Winter Solstice with newcomers from all around Maryland. It's a special and unique celebration that not all counties have, some only have lights and a drive through. Many come from other counties and say this is a perfect family and Covid friendly experience, they can come and observe at their own pace and after go downtown for some food.