A Simple Favor Review : Spoiler Alert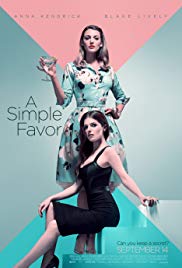 A Simple Favor hit the box office September 14 ,2018 and opened at #1 for that week. The movie is produced by Lionsgate and directed by Paul Feig. A Simple Favor is in theaters all across America in over 3,000 theaters. A Simple Favor was based off a book written by Darcey Bell and released on March 21 2017.
This movie featured a young mom named Stephanie (played by Anna Kendrick), a mommy vlogger that tries to seek the hidden past behind Emily (Blake Lively), her best friend. Emily suddenly disappears and Stephanie seeks the truth of Emily's wicked and sacred past she wishes she left undiscovered.
Kaleah Wetherholt, a sophomore at Oakdale High School, shared her opinion for this movie: "I really enjoyed this film. I would definitely consider it one of my favorites. I couldn't believe how they could make a thriller film so comical. The acting was so amazing and the plot was so unexpecting."
Throughout the filming of the movie, a true friendship formed between Kendrick and Lively. "My plan to steal your wife is already going so well that she's getting the two of us confused," (http://www.latimes.com/entertainment/la-et-entertainment-news-updates-2018-anna-kendrick-and-blake-lively-s-new-1529598748-htmlstory.html) Kendrick wrote on Twitter.
Sadie Herman, a sophomore, stated, " A breathe taking, gasping, edge of your seat suspense, unpredictable film."
Bella Johnson expressed,  "At the end the husband and the best friend play a game for Emily to confess for the murder of her sister but before that the best was on Emily's side."
Wetherholt also expressed, "I was confused about Emily's family and didn't know if she was actually a triplet, being that she was a pathological liar. Another thing I was confused about was when Sean and Emily met up and he told her that he didn't love Stephanie. Like was their whole relationship a lie or did he only admit that because she was pointing a gun at him? I was also confused at the end when Emily both talked to Sean and Stephanie;  I didn't know who was on whose side and who was teaming up together."
This movie had gotten 84% on Rotten Tomatoes and had critics on their feet. Movie critic Kevin Smith clarified, "A Simple Favor is an amazing film with a talented cast, Blake Lively was a stand-out for me and Anna Kendrick was perfect for the role as Stephanie. The clothing and style in the film are amazing. This film should be seen by people who liked thrillers and mysteries!" and Tony Frazier another critic noted "It wasn't the best movie I've ever seen and all the actors play roles they are typically type cast for. It was surprisingly funny though and honestly kind of enjoyable although super far fetched. At least it wasn't the same old recycled trash we've all been seeing lately."
Whether you like it or not this movie has been talked about all over the news. This movies has great a great friendship and critics wonder if their gonna be a second movie following A Simple Favor.