Boys Cross Country Championship Season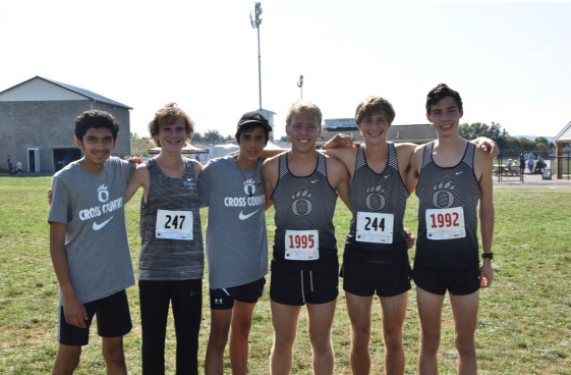 The boys Cross Country team kicked off their championship season last Friday, October 15, at Boonsboro High School with the Central Maryland Conference (CMC) championship. Of the 7 schools in attendance, the team finished dead last with a score of 139. 
While disappointing, this performance was not entirely surprising. Many key varsity runners are currently out with injuries, including 3 of Oakdale's top 4 runners. Most notable among those inactive was captain Abhishek Muddireddy, who is ranked first in all of Frederick County.
However, there is good news that comes out of this loss. This meet will not have any effect on the rest of the team's season, and they will still be able to compete for a spot at higher level meets like regionals and states. The team is now focused on preparing for counties, which will dictate the rest of their season. Thankfully, they will have a week-long break to recover from their injuries and continue to prepare for the true championship season.
When asked how the team will prepare for the county meet, Coach Zachary Lesieur explained, "We start tapering, in the sense that we start easing back on the workouts so that the general physical stress load on the body is reduced, so the body can then recover from the intensity of the rest of the workouts we've done over the season."
"The last few meets, we've been training right through them," agreed Captain Reed Fliegel. 
"And so now we're going to start tapering more to prepare, and really start reaping the benefits of the workouts we've done over the course of the season."
The team is hoping and expecting to win counties, as they know that they are likely the strongest team competing for the title. However, it will be no walk in the park, as several other schools also have very strong teams.
Lesieur gave his insight into their toughest competitors, stating that Linganore and Urbana would likely be the biggest threats going into counties. He explained,  "Especially with cross country they're going to be the top two. But then individually, you have different runners spread across the county."
As for the rest of the season, the team is very optimistic. Barring any further serious injuries, they believe that they will perform much better. Fliegel stated, "As long as we keep working hard every day and all that, we'll be able to make it to states."
This goal is ambitious, but achievable. The team will most certainly continue to work hard over the course of the rest of the season as they strive to meet this goal.