Capitals Fan Donates 50-50 Raffle Prize to Pittsburgh Synagogue Victims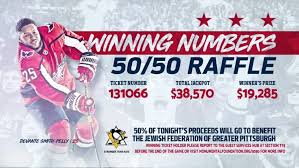 Last Wednesday, November 7th, the Washington Capitals took on the Pittsburgh Penguins. During the game a fan committed a historic deed, a deed that made this fan a hero.
During every home game for the Capitals, the events staff hosts a 50-50 raffle; anyone can put in a few bucks to enter to win a grand prize of cash.  Wednesday night the raffle was quite different. Fifty percent of the earnings from the raffle were going to be donated to the Jewish Federation of Greater Pittsburgh. The other half as usual going to be won and given to a fan.
For those not aware, last month there was an anti-Semitic attack at the Tree of Life Synagogue in Pittsburgh that ended up resulting in 11 deaths.
The jackpot ended up being a total of $38,570 which means the winner would bring home $19,285. Once the winner was announced, the victorious Capitals fan decided to commit a courageous act. The fan made the decision to donate his winnings to the Jewish Federation of Pittsburgh. All thanks to one fan the grand total donated was now $38,570.  
Junior Brock Layden said, "I don't think I'd be able to give $19,000 away that easily. I would still share the money with my family and friends."
Another junior, Landon Rotter, spoke on the matter of, how much pride it would take to donate all of that money. Rotter replied, "All I know is I couldn't do it, I can't imagine how hard it must have been to give up all that money right after winning it."
Pittsburgh and Washington are one of the biggest rivalries in sports; however, the rivals were able to come together against one tragedy.