Frederick Goes Purple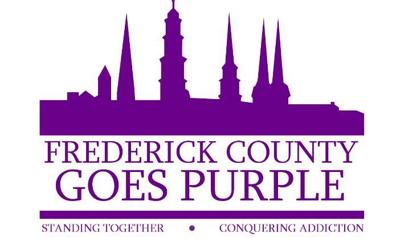 September, also known as National Recovery Month, has once again rolled around. This year Frederick County locals may notice an increase in activism. Purple has been appearing everywhere recently, even in Oakdale High School, and it's not because of some new fashion or design trend. This increase in purple is the result of a movement known as Frederick Goes Purple, which is looking to raise awareness about substance abuse, primarily related to the opioid crisis.
"It seems to be the end result of the push for recognition of the increase in the substance use disorder issues within Frederick County," replied Judith McGraw, a guidance counselor and health teacher at Oakdale High School, when asked about how the movement was started. 
She also went on to explain how businesses and other organizations came together with this common goal, saying, "Some of these entities were founded by professionals in the field, some were founded as a result of the impact on their own life or the lives of loved ones."
What are the goals of the Frederick Goes Purple movement? It's a call to arms, so to speak, except the monster these warriors are fighting is substance abuse, as well as the overdoses and deaths that come with it. McGraw explains that one purpose is "to offer prevention and support to those in need."
In a world where most teenagers have easy access to prescription opioid drugs, prevention is more important than ever. Children are being brought up in a time when drug culture is becoming more and more normalized, despite all the warnings about the harm it causes.
Another issue people have with society's view on drug use today is how opioid abuse isn't treated as seriously as it should be. While Opioid Use Disorder may sound like an excuse for continuing to abuse opioid drugs, it's actually a chronic brain disease that can relapse at any moment. Addiction is more of a danger than most people choose to believe.
Students are encouraged to show their support for the movement in a number of ways, in and out of the school building. When asked about some ways students could show their support, Jessica Miller, a social studies teacher at Oakdale, replied that if students have a facebook account they can, "Like the Frederick Goes Purple facebook page, or change their facebook profile frames to the Frederick Goes Purple one."
Of course, for those students who don't use facebook, there are still plenty of ways to show support in school. According to Miller, some ways to do so are by simply talking about the movement, as well as wearing purple to school on Friday, September 27th, Oakdale's Purple Friday.