Future Farmers at the Fair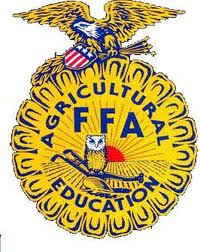 Every year at The Great Frederick Fair, the FFA, Future Farmers of America, members bring in animals and other agricultural presentations to the fair. This year, many Oakdale FFA members were involved. The students who participate in the fair help promote agricultural education and provide opportunities for people interested in the FFA to see and learn some of the things that they do.
Both the Fair and the FFA provide assistance in promoting one another: "Our members participate in the fair and they exhibit their animals and projects. All my classes exhibit projects. So it gives a place for my students to get competitive with their work. On the other way around, the fair gives an opportunity for the community to see the [FFA uniform] jackets and the FFA members. I think the benefit is mutual," Ms. Welty, the Oakdale FFA advisor, explained.
Cheyenne Humphrey is a student at OHS and a member of the FFA. She has participated in the Great Frederick Fair for the last two years. "This is my first year participating in the fair as a exhibitor, but last year I was one of Oakdale FFA's Ambassadors at the Fair. As an ambassador we went to shows and handed out ribbons."
"This year, I exhibited my two market hogs. During our show the animals are exhibited in the most proper manners as we all want to win. Both the showman and the pigs are judged. I showed twice that week, once in the showmanship…and twice in the market show. In showmanship I placed 3rd, and in market I placed 10th and 2nd," she proclaimed.
Humphrey spoke further on skills she has learned from FFA that helped her with other programs, such as the 4-H club. It taught her leadership abilities and preparation for tasks. Ms. Welty conveyed a similar idea. "It's the world's largest leadership organization, that provides opportunities for students to learn by doing. As well as learning to do.They can become more competitive in the workplace, compared to those who may not be have been in FFA. And they can and be prepared for college and the workforce more than the general public." She therefore believes that this organization is important to Frederick as a community, specifically to young people.
Overall, the Future Farmers of America are proudly representing our community and school. To learn more about the FFA, you can ask Ms. Welty in room B101.
Picture Source: