How Vaping Affects Oakdale High School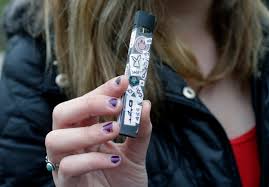 Vaping is growing popular among teenagers in high school. Specifically, JUUL. This is one of the most popular vaping brands. They have fun flavors, like cherry, watermelon, mint, which appeal to the younger crowd, especially the high schoolers.  The National Institute on Drug Abuse shows that 66 percent of teens believe their vape only has flavoring in it.
Marissa Riddell, a sophomore at Oakdale High School, shares, "The only thing I know of what's in the pods are nicotine and some kind of flavoring,". 
JUUL pods are filled with a mixture of glycerol, propylene glycerol, benzoic acids along with the nicotine and flavorings.This can be why students don't know that there are true and long-term dangers to vaping.  The chemicals in the pod can lead to respiratory and cardiovascular issues and, possibly seizures. Cancer is also a long-term problem that can be affected. 
Lauren Heater, a sophomore at Oakdale High School, shares, "I know that vaping can damage your brain health and lungs."
Riddell thinks that Oakdale High School does provide a lot of information about the dangers of vaping, but that it could be advertised in a way that kids will actually listen. 
As much as Oakdale does to educate, it doesn't stop kids from vaping in school. Riddell notes, "I've seen so many people at school or in public vaping, and it's becoming a huge problem."
Although, Heater explains, "JUULS are very discreet" and mentions that she has never personally seen anyone vaping in school. The design of the juul makes it easier to use in school, and the vape cloud dissipates quickly, so sometimes the teacher does not even see it.  
Along with students being educated at school, parents and guardians play a key role in noticing if their kid has a vape or if they have been vaping. Kids as young as the elementary school level are being educated about vaping and how to say no to the vapes. 
Parker Wyttenbach, a junior at Oakdale High School, notes that education about vaping should, "start in elementary school, but in more depth during 5th grade." Starting this young can help to prevent kids from starting in middle and high school, according to research.
Even if teens do start, there needs to be actions done to get them to quit. Riddell feels that because "the age for buying products is raised, and the cost is raised." It is harder to get into the hands of kids. Vaping is an addictive habit that will be very hard to break in many teens.