Is Travis Scott Responsible for the Tragedy at Astroworld?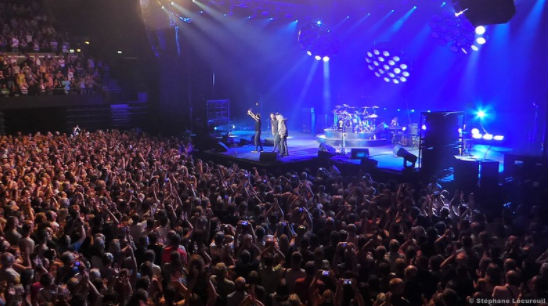 On November 5th, 2021, rapper Travis Scott's two day Astroworld Festival in Houston ended up with a deadly crowd surge during his performance. Scott took the stage around nine pm, and even though issues in the crowd started almost immediately, the concert didn't end until around 10:10 that evening . The real question is, was the issue ignored as the concert continued?
It was reported that chaos arose from the very beginning. Among the 50,000 event goers, additional fans were climbing fences or sneaking in to add to the already large crowd, so it wasn't unexpected when people began to get crushed.
There was no room for anyone to move, or even breathe, and people were tightly packed together. Fans began to get trampled, and several passed out from not being able to breathe. Ten people died from their injuries, the youngest being 9 years old, and hundreds were injured.
The concert continued for 30 more minutes, and fans felt like they were being ignored.
Freshman Charlotte Foltyn explained, "Travis Scott knew what was going on because people were screaming at him to stop, and at one point, he acknowledged an ambulance that was coming, he could have stopped the show."
The performance ended about 30 minutes earlier than scheduled, the rest of the festival was canceled, but it was still too late.
While many are blaming Scott for the incident, others argue that he was oblivious to what was happening in the crowd. "No one told him directly and he couldn't see because of the stage lights right in his face," explained Sophomore Madison Glover. "When the crowd's that loud and you can't see in front of you, you have no idea what's going on."
Travis Scott has come out saying he wasn't told about anything and didn't find out about the tragedy until the next morning. He has agreed to pay for the funeral costs of the victims, and has teamed up with BetterHelp to provide online therapy for those who were at the festival.
While the incident may not necessarily be Scott's fault, there were many things that could have been done to prevent it. Sophomore Reilly Walters expressed that, "The show could've been stopped, and the security could help people exit or back up so that people in the front wouldn't be trampled."
Glover added, "More security and stronger barriers need to be added for concerts in the future so this doesn't happen again."
While everyone's more cautious about crowding now, people are hesitant to attend other concerts in the near future. "People will need to see venues take precautions," Foltyn explained. "Personally, I would still go to a concert because I would be aware of what could happen and I wouldn't join a big crowd, and I would be aware of the people around me to get out of the situation immediately."
As precautions will surely be added to concerts in the future, we can hope something like this will never happen again, and our hearts go out to the victims of this terrible event.