9/12/18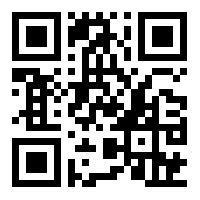 I pledge allegiance to the flag of the United States of America, and to the republic, for which it stands, one nation, under God, indivisible, with liberty and justice for all.
 Attention all math honor society members!  Please be sure to join the new Google Classroom (a post was made in last year's Google Classroom page with the new code for this year).  Tutoring hours will start this week.  Be sure to read about the changes in Google Classroom and see Ms. Watson in A203 with any questions.
–
Club Sign Ups – https://goo.gl/X8vxFL or QR code (above)
–
Freshmen, Sophomores and Juniors: Underclassmen portraits and ID's will be taken Tuesday, 9/11, and Wednesday, 9/12 in the auditorium.
Also, Seniors, the senior panoramic will be taken Thursday, at 10:30 in the gym. Be sure to sport your "bearwear"!
–
Sophomores and Juniors: The PSAT's will be taking place Wednesday, October 10th. Registration and payment can currently be done online through https://frederickcounty.schoolcashonline.com he fee for the PSAT is $17.00. This is a great opportunity to prepare for the SATS. Study guides can be found in the guidance office. See Ms. Connolly for any questions.
–
All students: SGA sign ups are going on all this week. Be sure to join for for fun activities, and a chance to be a voice for the students. Grab an application from Mrs. Miller, B228, or Mrs. Mulcahay, A204.
–
The National Art Honor Society is now accepting applications for the 2018-19 school year. Have you taken at least one Level 2 visual arts class? Do you have a 3.5 or higher GPA? Do you have an interest in serving the community through art? Then NAHS may be for you. Please stop B244, Ms. Stockman's room, for more information and an application. Applications will be due Sept 21st.
–
All students: Please consider signing up for Meghan Schwartz and Anna Dibella's leadership project. They are hosting a Color Run 5K on September 16th in Spring Ridge! The Color Run is to support Oakdale Athletic Boosters. Contact Anna or Meghan to sign up, or look for the flyers hung up around the school.
–
GOOD NEWS! The Study Den, the after-school tutoring center, opens on Tuesday, September 11, and continues every Tuesday and Thursday from 2:15 – 3:30 in B200.If you have a question, please talk with Ms. Harrison, Ms. Watson, Mr. Widmeyer, or Ms. Mehl!
Congrats to Girls' Soccer, Volleyball, Field Hockey, Boys' Cross Country teams on their wins last night.