Oakdale PARCC Scores Shock English Department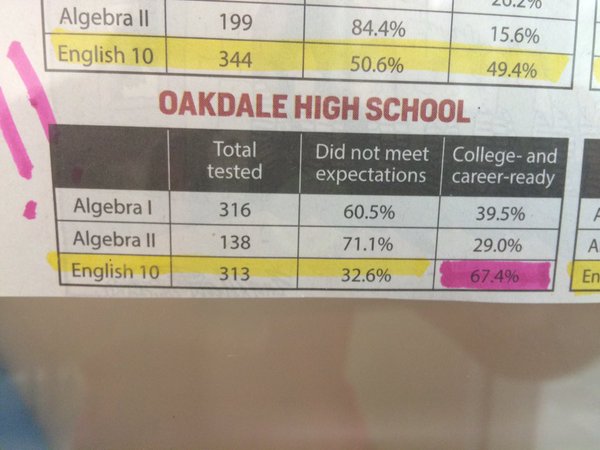 by Madison Lawson
Friday, November 6th, The Frederick News Post released the official PARCC scores for all ten high schools in the county. Oakdale High School, surpassing all the others, scored a 67.4% college readiness level for the English test. Shocked and grateful, the OHS English Department rejoices at the fact that their pupils have exceeded everyone's expectations.
"When I heard the results I was very relieved to know my students did well. It was a reminder that what so many teachers in this building, and myself, do really does make a difference," stated English Teacher Ms. Lauren Graziano.
PARCC stands for Partnership For Assessment of Readiness for College and Careers; it's the official state test for the new Common Core curriculum.
Many people question the PARCC's credibility since the Common Core curriculum received such backlash from the community, but the English Department treated the PARCC just like any other test.
"I had my students take a few PARCC practice exams and I do grammar warm ups every day to help them prepare for it. I told my students to just do their best because they never know when it will matter or how well they can do unless they try," claimed Graziano.
What's the secret? How did Oakdale surpass all the high schools in Frederick County?
"It was really a team effort," stated English Department Chair Ms. Carrie Mehl. "Our curriculum is aligned to the common core state standards, and our CRES assessments mirror the PARCC assessment."
In addition to the curriculum, the place students test plays a role in their success. "We set it up as a typical testing environment. Students were assigned to rooms with a proctor who monitored the students the whole time" explained Ms. Mehl.
Believe it or not, allowing students to test in designated rooms increases their chances of passing by getting them in a focused, studious mindset.
More importantly, as a team the Oakdale High School English Department dominated the test and should be proud of their efforts.
"It wasn't just one thing it was everybody – everything contributed to our success," said Ms. Mehl.     "The students were phenomenal, we owe it all to them!"
For more Information, click the links below!
http://www.fcps.org/news/FCPS-Ranks-2nd-and-3rd-Statewide-in-Algebra-II-PARCC-Results.cfm?grp_id=19385
http://www.fredericknewspost.com/news/education/learning_and_programs/frederick-county-students-score-high-on-parcc-compared-with-rest/article_1b97a9b5-9e73-5cbc-93d0-350c2dbd2219.html