Soccer Wins States: A Social Media Story
On Saturday, November 17, the Oakdale Boys' Soccer Team won the state championship.  For those who couldn't make it, we watched it play out online or on social media. Here's a recap for those who couldn't be there.
Here's @riley_daiger's goal that put @OakdaleAthletic ahead 1-0 late in the first half. Read about the Bears' state championship-victory, HERE: https://t.co/qIj2SanovU pic.twitter.com/wallhAvzkt

— Tim Schwartz (@TimSchwartz13) November 17, 2018
Riley Daiger scores first, helping Oakdale to the lead.
MPSSAA Class 2A Boys Soccer Championship: Oakdale 1, River Hill 0, 10:31 of the match. Riley Daiger scores on an assist from Sumangal Myers.

— Frederick Sports (@FrederickSports) November 17, 2018
Unfortunately, after the half, River Hill struck to tie the score, which remained until the end of double overtime.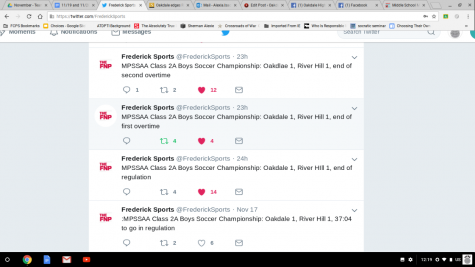 STATE CHAMPIONS⚽️: @OHSMensSoccer defeats River Hill in penalty kicks to win the 2A boys soccer state title!! pic.twitter.com/cp0XqDKWWl

— WDVM Sports (@WDVMSports) November 18, 2018
Congrats, Boys!! And to top off the day – they got the sportsman award for the tournament. Making us Bear Proud
Very excited to be told that @OakdaleAthletic was awarded the 2018 @MPSSAA_Org State Soccer Tournament Sportsmanship Award!
All 4 of our schools represented FCPS very well, both on the field & in the stands.@Oakdalesoccer @DonnaClabaugh #SportsmanshipCounts #RespectTheGame pic.twitter.com/9mvwn33INa

— Kevin Kendro, CMAA (@FCPSAthletics) November 18, 2018
Sources:
https://www.baltimoresun.com/news/maryland/howard/sports/ph-hs-boys-soccer-river-hill-oakdale-2a-state-final-20181117-story.html
https://www.localdvm.com/sports/maryland-sports/oakdale-boys-soccer-wins-2a-state-championship-in-dramatic-fashion/1604211591
https://www.fredericknewspost.com/sports/level/high_school/bears-stand-up-to-penalty-kick-pressure-to-win-a/article_988af8ee-7f77-5e8d-8c60-cb1ea857c386.html?utm_medium=social&utm_source=facebook&utm_campaign=user-share&fbclid=IwAR2Baddd_q16zvyS9WlmE0B5b9S0gTFV0e_8oTKHsXznjMF8PW0G9ExAxIs