Spreading Hispanic Culture Through Music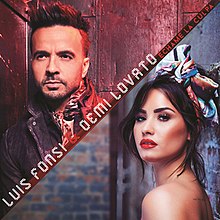 In recent months, popular Hispanic singers J,-Balvin and Luis Fonsi, as well as many others, have been spreading Hispanic culture through their music. As well as their lyrics, some singers are using collaborations with English singers and mixing in both Spanish and English vernacular to spread Hispanic culture around the world.
Singer/Songwriter J-Balvin states ,"I'm Latino by nature, and I want my music to be heard and enjoyed around the world." He uses lyrics in popular song "Mi Gente" to express how everyone can listen to and enjoy the same music together.
His song includes African, Electronic, and Caribbean styles of music:  "If we can get rid of the barriers of color, race, continents, genders, or languages, we can get the whole world to move it's head to the same beat."
At first Balvin intended to create music for the Latino community; however, once he realized that he can share his music with the world that became his primary goal. After that  Balvin states, "I'm not making music just for the Latino community anymore". He discovers for himself that he wants to share his music around the world.
Not everyone is aware that Hispanic music has multiple genres.
Reggaeton is a style growing in popularity recently. The song "Despacito" was a hit within that category.
Sophomore Léa Martinez comments, "The Hispanic industry has multiple genres that can influence and collaborate with american culture."
Leo Quintanilla, another Oakdale sophomore, responded, "It's gnarly. I love collabs. It's good to have collaborations to spread Hispanic cultures."  
Luis Fonsi has recently made two collaborations, "Despacito" and "Echame la Culpa". When "Despacito" was released it was a huge hit. Fonsi collaborated with popular singer/songwriter Justin Bieber. It quickly hit #1 on top charts in pop-radio.
After that Fonsi created "Echame la Culpa" and collaborated with singer/songwriter Demi Lovato. Lovato claims while making the song: "I think what 'Despacito' did for our culture – this song introduced spanish onto pop radio, into a lot of peoples homes."
"Despacito" kicked off Latino music into more people's lives. Since then more and more people worldwide are listening to Latino that may not have before.
Through English-Spanish collaborations Latino music can get on English radio stations allowing the spread to more people.