States and State Borders Shut Down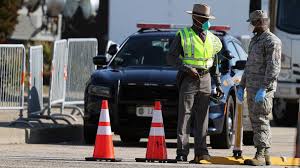 With the fast spreading COVID-19 outbreak, many politicians argue whether President Trump has the legal right to force individual states to quarantine and restrict travel. Regardless, multiple state governments have made the decision on their own. The current debate is asking the question: "Is it unconstitutional to shutdown state borders and impose on people's right to freedom and travel?"
The number of cases and deaths from the COVID-19 have increased dramatically with each passing day in the United States. This causes concern in the citizens and the government for public safety and health. The government has been looking into what they can do to slow the spread of COVID-19, with one option being shutting down state borders and restricting personal travel to necessities only.
However, it is highly unlikely that the President would sanction such an action. According to Lawrence O. Gostin, director of O'Neill Institute for National & Global Health Law, "Internal travel restrictions are constitutionally problematic because the president does not have power to force a state to lockdown," as he wrote in an email.. "The right to travel is also deemed fundamental under the Constitution."
The difference is when individual state governors issue such an order as the "Stay At Home" order given by Maryland's Governor Larry Hogan on Monday, March 30th, starting at 8 p.m. that day. Maryland residents were given the order as an attempt to get a hold of the rising cases of COVID-19 in the DMV area. 
Josie Watkins, a Junior at Oakdale High School, explained her viewpoint on the "Stay At Home" order, saying she believed it was necessary with "the time it takes to show symptoms, you may have it without knowing. [This prolonged exposure risk is] giving it to people."
If a resident is caught leaving their house for reasons other than exercise, getting food, and medical care, they can be fined $5,000 and/or one year of jail time; although, the police are not actively looking to "catch" anyone. These actions have also been taken in Virginia, whose government shutdown travel until June 10th. 
Not only did the state governors shut down travel and state borders, all public schools and  businesses considered nonessential have been closed until further notice, such as home decor and clothing stores. This was meant to keep residents at home and reduce the amount of people in one place at one time, as would occur in schools. The effect this shutdown could have on smaller businesses could be devastating, as they require customers to stay in business.
A Junior at Tuscarora High School, Ethan Tumy, expressed his concern that "many people will just not be able to work and won't have the money they need to buy things."
COVID-19 has proved to be more than simply a medical disaster; it has affected the economy, social interactions, sports, businesses, and so much more. In the coming months, citizens can only hope that the preventative measures they are taking bring an end to state and federal shutdowns and "Stay At Home" orders to return to their normal lives.
Sources: