Tesla Cybertruck: Cutting-edge Innovation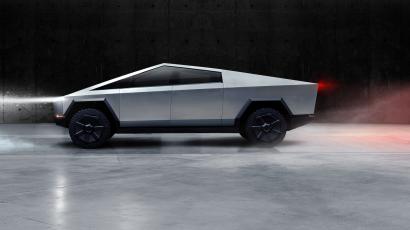 Elon Musk has a talent for shaking things up. From SpaceX's reusable rockets to Boring Co.'s undercity tunnels, he has single-handedly sped up innovation in the tech world. He is known for over-promising and frequently under-delivering, yet he shoots for the stars and still hits the moon. 
With his newest reveal of the Tesla-branded "Cybertruck", he displays this same skill for disrupting industries. However, some Tesla devotees think this latest side-project makes the truck world just a little uglier or closer to a 1950s vision of the future.
Fabrizio Martinez, an Oakdale Junior, mocked the truck's bizarre appearance, "I don't think anyone would roll up to a friends house in a Tesla Cybertruck."
Many were shocked by the Cybertruck's controversial design, and major brands like Pepsi and Lego Bricks took advantage of the excitement on Twitter with posts mocking the supposedly "bulletproof" exterior. Lego posted an edited photo of a gray lego brick on wheels claiming that
A clear dig at the Cybertruck's failure on stage occurred when its windows shattered during a demonstration involving a steel ball. 
Brent Call, an Oakdale senior, commented on the truck's aesthetics, "It's unusual, that's for sure… but it looks like the future. Elon Musk's brand is based on the future, and so this fits with the theme." 
Tesla's new truck may be aesthetically bizarre, but at its heart, it's still a truck built to pull and lift heavy loads. It will be manufactured in three tiers based on motor capability; each featuring an exoskeleton made from a stainless steel alloy called 30X which is the same material used to construct SpaceX rockets. The lowest tier of the Cybertruck has a range of 250+ miles, while the mid-tier and high tier have a range of 300+ and 500+ miles per charge. 
While Tesla seems to be in the lead when it comes to developing a fully electric pickup, many traditional truck manufacturers are working to close the gap. Ford has shown an especially eager leap towards manufacturing an electric pick up with a $500 million investment into EV startup Rivian. 
Rivian, with investments from both Ford and Amazon inc., plans to release its own electric pickup called the R1T, an electric pickup that more closely mirrors a traditional truck in appearance. Comparing the two, they have very similar specs although Tesla's Cybertruck has a good lead in range based on a single charge. The Cybertruck's top tier reaches 500 miles per charge while Rivian's top tier for the R1T only reaches an estimated 400 miles per charge. 
According to a Business Insider article, "One of the most important deciding factors for buyers of an electric truck will undoubtedly be price. The R1T is going to start at about $69,000. Tesla's Cybertruck is expected to start at $39,000 for a base model and go up to $69,000 for the top-tier version." 
For most people, the Cybertruck will be their first choice since the vehicle has the backing of a recognized brand. Tesla also manages to pack a lot more features into their truck, at prices that undercut most of their competition. Whether this will be enough to overcome prospective buyer's initial disappointment with Tesla's "Blade Runner" inspired truck, will be revealed in the coming years. But so far more than 250k pre-orders have been made and we may soon find the Cybertruck roaming our streets by late 2021.
Sources:
https://www.inc.com/justin-bariso/elon-musk-made-cybertruck-ugly-on-purpose-and-its-smartest-thing-hes-ever-done.html
https://www.cnbc.com/2019/11/28/elon-musks-cybertruck-is-being-trolled-by-brands-on-twitter.html
https://twitter.com/LEGO_Group/status/1199644074866888706
https://www.tesla.com/cybertruck
https://www.nytimes.com/2019/04/24/business/ford-rivian-investment.html