The Cabaret: The Biggest Performance of the Year for the AFA
"It's really cool seeing high school students put on a performance that looks like it's done by people who do it for a living," praised Juno Gifford, a seventeen-year-old cosmetology student at The Temple, after viewing The Academy of the Fine Arts (AFA) 90's themed Cabaret.
The AFA is one of Frederick County's college and career pathway programs located at Thomas Johnson High School (TJHS). The Cabaret is an annual themed variety performance showcasing all five of the AFAs advanced focus groups including Art, Dance, Music, Musical Theatre, and Theatre.
This year's title of the collaborative AFA performance was Ice Ice 90s Cabaret. Students of all focuses were tasked with creating many different acts inspired by the 1990s era. "I thought everyone did a really good job. It was funny, it was inspiring, it was heartfelt. I loved it," expressed Emily Novak, who is in her second year at the AFA as a musician from Oakdale High School (OHS).
Jonathan Kurtz, the coordinator of the AFA, prides the academy on its student-led performances: "The Cabaret performance is one where the students really take ownership of it. The teachers really don't dictate the acts."
After being given the 90s prompt, for the next month and a half, students would be given the opportunity to create projects they want to pursue. From a musical recreation of Titanic's "My Heart Will Go On" featuring the Nokia ringtone, to a comedic tribute to 90s slasher films showing what they would be like if they took place in the present day, students truly had creative freedom to make the Cabaret whatever they wanted.
After putting on the performance of the year, Novak explained the satisfaction students felt after the preparation and hardships: "There was a lot of stress and anxiety in the group. The worry and doubt was spreading. To see it finally click together was very rewarding."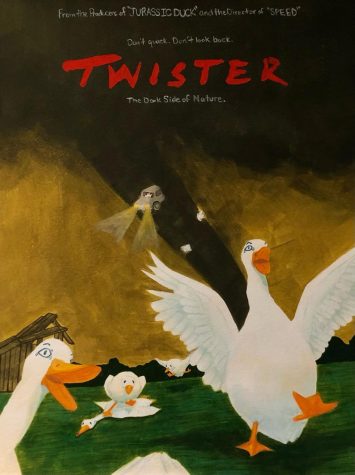 While they aren't a performing arts focus, visual art students were able to display their 90s inspired artwork in a gallery located in the lobby of the auditorium. Meghan Kiessling is a third year art student from TJHS. She was inspired by the 90s to create a duck parody of Twister's movie poster from 1996.
In addition to their art gallery, all students including visual art were offered the unique opportunity to perform regardless of being in a performing arts focus. AFA students are able to collaborate with focuses outside of their own as well as the entire AFA was invited to participate in the opening dance number titled "Ice Ice 90s." "It gets us to explore avenues out of our comfort zone and really push us as artists and people," adds Olivia Tehaan from OHS, who is studying in the inaugural Musical Theatre focus this year.
A fan favorite from both the audience and performers is the third year vocalist Annika Guenthers rendition of "Creep" by Radiohead. Multiple people commented on her stage presence. "I have always been a fan of her voice and stage presence so Annika always leaves a strong impression on me when she performs," says Kiessling.
Other popular acts in the Cabaret were from the dance focus including their Spice Girls "Wannabe" and Britney Spears "Toxic" dances. The dancers did not only perform up-beat music pieces, though, "I was in a piece called 'Somewhere' which was inspired by the AIDs crisis of the 1990s. I hoped with the hopeful message of the song to really expand on the topic and create a strong message of possibility and perseverance," explains the second year dance student and junior from Catoctin High School Sophia Daly.
The Academy for the Fine Arts wanted to not only perform enticing acts inspired by the 90s, but also give attention to the serious events from the time period. "I thought it hit some significant topics and memories, especially because that decade's really close to a lot of parents of highschool kids right now," mentioned Kurtz.
When asked what acts impacted them the most, Gifford agreed, "The AIDS section. That was really sad and it shines a light on something that was a huge struggle for a very long time."
While students enjoyed the artistic freedom they had preparing for the Cabaret, there were hardships that occurred. "Understanding that art forms are a collaborative process is something that I think younger artists struggle with," noted Caitlin Barnes, the new theatre teacher at the Academy of the Fine Arts. She continued to add that after opening doors to communication, preparation went more smoothly.
Other points of difficulty were the illness that spread throughout Frederick County Public Schools, as well as other responsibilities students faced outside of school, "Some of us missed days of school due to illness, sporting events, appointments. The conflicting schedules made it difficult to have a solid planning time," Tehaan explains.
Many students who have been studying at the Academy for the Fine Arts for multiple years now noted their improvement in their art and in themselves: "[Last year] I wanted to do stuff but I was so scared. I've improved majorly by getting up there and really being myself and putting myself out there and doing what I love. I'm not really scared anymore," expressed Bowie Baughman, a second year theatre student and sophomore at TJHS.
It seems the feelings that Baughman states were common throughout the academy. Guenther agreed, "Last year I was super proud of myself but I was still not sure of myself. I am getting better at being sure of myself."
After their performance, the pride of the students was exhilarating. "Being able to tell them that I'm in a really cool program that not a lot of people get into or have the chance to get into is something that I'm really proud of," states the first year theatre student Zolany Robinson, a sophomore at OHS.
Daly adds, "It's so great to be in a place where you feel like you can be your authentic self and express who you are through your art."
The Academy for the Fine Arts Ice Ice 90s Cabaret is one of many Cabarets over the years. As the AFA continues to grow, so do their performances. Every student is excited to continue to produce amazing pieces for every audience member.
"
[Last year] I wanted to do stuff but I was so scared. So I think I've improved majorly by getting up there and really being myself and putting myself out there and doing what I love. I'm not really scared anymore"
— Bowie Baughman