The Santa Clauster Christmas Spectacular Show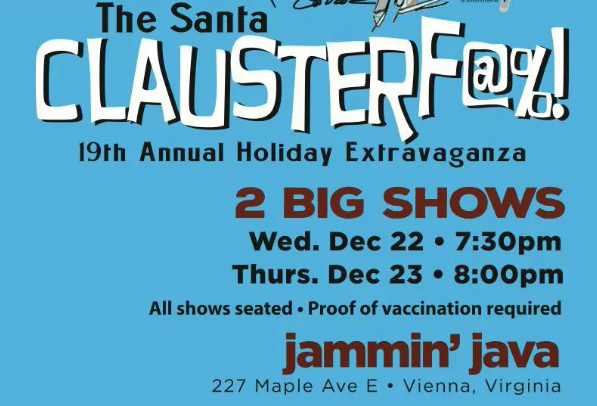 Todd Wright's 19th annual Christmas spectacular is making a comeback from Covid and according to Wright, the show will take place at Jammin' Java, at 227 Maple Ave E, Vienna, Virginia.
The show started in about 2002-2003 and it raises around $8-10,000 each year for cancer. Tickets for the show were sold out almost immediately, but premier tickets normally cost $25.00. Due to Covid restrictions, proof of vaccination is required to get into Jammin' Java and tests are not accepted. 
Mark Williams, a musician in the show, states, "The show will take place on 12/22 at 7:30 pm and 12/23 at 8:00 pm". 
Every Christmas classic you can think of will be played at the show including "Jingle Bell Rock", "The Grinch", "All I Want For Christmas, Santa Claus is coming", and so much more! 
According to Williams, each song will be "Rocked up Christmas tunes."
The musicians that will be playing in  the show include Todd Wright as vocal and acoustic, Mark Williams on the guitar, Tobias Smith on the drums, Ben Tufts on percussion, Scott Simon on the piano, Ken Wenzel on the horns, and Taylor Carson as a vocalist. 
All of these musicians are very talented and play very well together. When you add in their vocals with the instruments they play best, this show will be an experience never to forget.