Why is composting so important to Oakdale high School?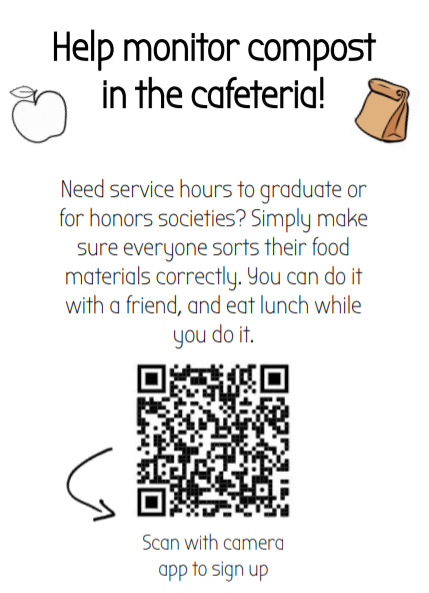 This year will be the first full year for Oakdale High School's newly founded Environmental Club. Elizabeth Nave, an OHS biology teacher, is the advisor for the  club.  She has been working hard since the start of the school year to get the club fully functioning on its own.
For most students, especially freshman and sophomores, the composting process is brand new.  In order for students to understand the composting process, they have to understand why we compost in the first place.
Krish Patel, a sophomore at Oakdale High, has worded the purpose quite simply: "We compost at OHS to minimize waste in landfills."  
Patel's definition perfectly sums it  up.  Some students have even continued their composting habits outside of school. By people continuing their composting habits outside of school, we can make an even greater impact.
Bailey Roman, a freshman at OHS, is one student who continues her composting habits at home.  "My whole family composts.  We have our compost bin at our house," explained Roman.  
Roman and all students that compost outside of school will help make an even greater impact as they continue their habits outside of school.
However, while composting is viewed as a positive process, the amount of effort put in by the students can really determine the outcome.  Most students at OHS try their best to make sure they are composting the food, dumping out the liquids, and accurately sorting the trash from recycling.  Some people, however, still have no interest in properly disposing of items, and just throw everything in the trash.  
After talking to students who don't contribute to the composting effort, most of them expressed that it was because of the fact that they were just afraid of the idea of making a mistake.  They were afraid that if something accidentally went in the wrong bin, they were going to be the ones to have to dig it out. 
Contrary to popular belief, students who accidentally throw things in the wrong bin do not have to dig it out.  Sometimes one of the students volunteering will pull it out, or it's just left in the bin. While everyone does slip up sometimes, asking the student monitors for clarification is always the best option.
Overall, OHS is doing some, but can do more.  The environmental club is always looking for more members, specifically people who will assist with the monitoring of the composting bins.
Nave stated, " [The composting effort] is well supported by the administration and faculty. A few kids are dedicated to monitoring bins but we need more. We have close to 50 members of the environmental club but only about 15 who step up to monitor. Waste from food is a huge contributor to human caused climate change. We can do better."
As composting continues on throughout the year, hopefully more students will step up.  Contributing to the efforts can be done by simply just throwing stuff in the right bin.  If more people sign up to help monitor, then we will make an even greater impact than people realize.