A Series of Unfortunate Events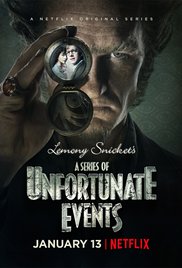 By Jessica Smith
Based on the books by Daniel Handler,  A Series of Unfortunate Events is a new television series that premiered on Netflix on January 13, 2017. This one season show, directed by Brad Silberling, consists of 8 episodes, and is a rough adaptation of the first four books of the written series.
The story is told from the point of view of Lemony Snicket as he follows the lives of three siblings: Violet, Klaus, and Sunny Baudelaire. After an unexpected fire burns down the family's mansion and kills their parents, the children are left orphaned, confused, and afraid. Thanks to Arthur Poe, the friendly financial banker in charge of orphan affairs, they are sent to live with their distant relative, Count Olaf. But is this something the kids should really be thankful for?
Count Olaf, played by Neil Patrick Harris, is quickly distinguished as the villain of the show. He is both physically and verbally abusive, as well as psychologically manipulative towards the children. In fact, Count Olaf was never interested in the children themselves to begin with. He was after the large fortune that they would inherit when Violet, the eldest Baudelaire, comes of age.
After the children find out Count Olaf's true intentions of stealing their fortune, the 'unfortunate events' of their lives begin to unfold. No matter where they go, Count Olaf manages to follow. On top of dealing with the wrath of their distant relative, the children are also faced with one nagging question: what was really the truth behind the death of their parents?
Receiving a 4.5 out of 5 stars by Rotten Tomatoes, the series is most commonly praised for both its intriguing plot and humorous script. The show starts out as seeming dark and dramatic, but soon takes a turn towards the comedic side.
"I thought the show was very interesting and humorous," says Junior, Meghan Carlson, "I also enjoyed the facetious jokes made by the characters that were part of the script, but thoughtfully and brilliantly carried out."
Even though A Series of Unfortunate Events has quite an intriguing script, many viewers do not seemed to be impressed by the plot. Senior Sarah McNeil states, "I enjoyed the show as a whole, but the plot of each episode was frustrating as the kids' guardians fall into traps set by Count Olaf."
Despite being out for only a few months, the show is already receiving positive feedback. On March 14 Netflix announced that A Series of Unfortunate Events will return with a second season. Although the release date is still unknown, the second season is said to be 10 episodes and follow the plot of the next five books. Fans will surely be anticipating to see what misfortunes come to the Baudelaire children next.