When Does Christmas Season Truly Begin?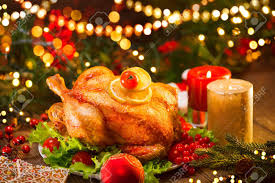 The Case for After Thanksgiving
The Holiday Season: a time for friends and family to rejoice; celebrating all there is this wonderful time has to offer, right. Wrong! "The Holiday Season" is a lame excuse to begin celebrating Christmas as soon as Halloween ends, and I absolutely won't have it. 
You might be asking, "What's the big deal about celebrating Christmas after Halloween?" Well, sweetheart, let me tell you why. There are two main reasons: Thanksgiving deserves it's own season and early celebration of Christmas leads to a lackluster December 25th. Allow me to explain.
It's commonly agreed that October 1st through 31st is considered the "Halloween Season" or "Spooky Season" for the quirkier of teenagers. However, the lines become blurred from there. As most should know, there are two main holidays between the end of Halloween and the end of the year. One of those is Christmas, of course, but what's commonly overlooked is Thanksgiving. 
Senior Emma McGaha enjoys specifically Thanksgiving, stating, "It annoys me when [Thanksgiving] gets glossed over like its nothing." Further explaining, "I just wish more people appreciated it instead of skipping right to Christmas." 
Walk into any Target, Marshall's, Home Goods, on November 1st. Notice the tinsel and glitter and lights vomited all over the aisles. This wouldn't be an issue if Thanksgiving wasn't such a prominent holiday. 
The Case for November 1st
Some people prefer Thanksgiving and Christmas to be separate from each other and that they each have their own season. That's just wrong; November 1st is the beginning of the Christmas season, where Thanksgiving is the opening act and Christmas is the main event. 
The Christmas season starts on November 1st. Chirtsmas is the biggest Holiday celebrated worldwide and deserves to have the longest season. Thanksgiving is an American Holiday, only celebrated in the United States. Worldwide Christmas season starts on November 1st, and it should here as well. 
The day after Halloween stores begin to play Christmas music, they put out all the Christmas decorations and get into the Christmas spirit. Starbucks begins to serve their Christmas drinks in their Christmas cups. All the companies begin to celebrate the Christmas season on November 1st and we should as well.   
Junior Aubrey Linthicum explained, "Chritsmas season starts on November 1st because that's when Christmas music starts on the radio and Thanksgiving is just about eating food." 
While some people may think that Thanksgiving deserves their own season, Christmas deserves a long season for people to drink their Christmas drinks, listen to Christmas music, and be in a Holly Jolly mood for two months rather than one.