English Course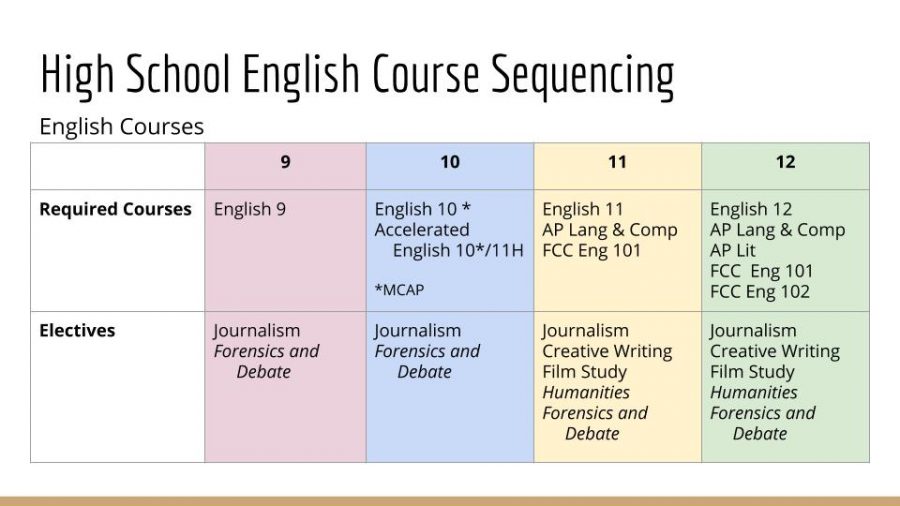 Not sure what English class to take next year? Here's some information to help you make your decision
Taking an English class each year is required. Still have blocks to fill? There are many English electives you can take such as Journalism or film study
As a sophomore you can take English 10, English 10 honors or accelerated English. Accelerated English is a yearlong rigorous high school level course that counts towards English 10 and 11 graduation requirements – two of the four English courses. Students will still need an additional English course their junior year . in accelerated English students will still take MCAP English 10 in January with other English 10 students. This course helps to prepare sophomores for classes like ap lang and English 101, and also prepares students to take the SAT.
English 11 options are English 11, English 11 Honors, AP Language and Composition and FCC English 101. English 11 is not required, you may opt out and take Ap lang instead.
English 12 options are English 12, AP Language and Composition, FCC English 101, AP Literature and Composition and FCC English 102 (102 can be taken if you have passed 101 or recieved a 4 or 5 on the ap lang exam)
Students also have the option of Virtual In-School and Virtual School for English 11, English 12, AP Language and Composition, and AP Literature and Composition
Electives such as Journalism, Creative Writing, and Film study allow students to write and explore English in different styles or through different experiences.