Argentina's Incredible World Cup Win!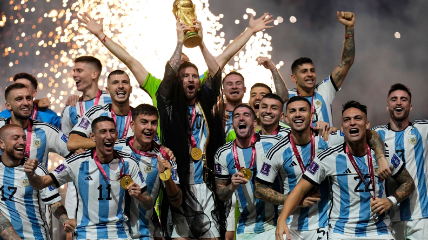 On December 18th, 2022, the finale of the World Cup took place in Qatar. Argentina faced off against France. While the chances for either side winning were even, Argentina was able to win the World Cup when Gonzalo Montiel scored the fourth penalty kick.
In the first half of the game Argentina was able to have the majority of possession, but once the 2nd half started, France stole the show. After receiving a penalty kick, France's forward, Kylian Mbappé, scored the first point for France. Close to a minute later, Mbappé scored again. France fans were extremely enthusiastic throughout those few minutes and had more hope for the team to win.
As Argentina gained possession of the ball, they were able to score again after France's thrilling catch up in overtime. With minutes before the time limit ended, France tied the game again, bringing the teams to a penalty shoot-out. France was able to make 2 goals from the penalty and Argentina scored 4, leading them to their victory in the 2022 World Cup.
Although Argentina's win is extremely exciting news for fans, France's own player, Mbappé, was able to win the golden boot. In the World Cup, a golden boot is awarded to the player who makes the most goals, while also scoring every goal for France during the final. Most fans were expecting Lionel Messi, Argentina's forward player, to win the golden boot. However, Messi only scored 7 goals in the World Cup, while Mbappé scored 8.
With Argentina and France scoring 3 goals each throughout the game, Oakdale High School teacher Alvin Matute explained his favorite goal, "When Lionel Messi scored his second goal at the end of the game, where it looked like it didn't go in, but it did. That one was my favorite"
Another amazing play was Mbappé's second goal, that came right after the penalty. Freshman Charles River commented, "I'd have to say since Mbappé scored 3 goals, my favorite goal was the one that wasn't a penalty shot."
With fans from all around the world cheering, a final this exciting hasn't happened for a while. In World Cup history, the last time a final lead to a penalty kick shootout was in 2006, and overall has only happened 3 times in World Cup history.