Penn State @ Maryland Preview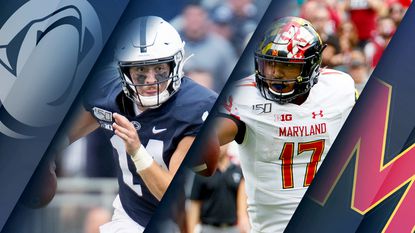 Penn State takes on Maryland this Friday at 8:00 PM, opening up conference play for both teams. These teams both have high expectations for the upcoming game and season. 
Maryland began the season with an upset win against the number 21 ranked team, Syracuse after dismantling an inferior Howard team 79-0. The next week, Maryland was ranked number 21 and went to Philadelphia to play Temple. During this time, all the 'hype' was about the game against Penn State. Maryland lost the game to Temple by a score of 20-17.
The Nittany Lions opened up the season with wins against Idaho, beating them 79-7;  Buffalo, beating them 45-13; and Pitt, beating them 17-10. The Nittany Lions lost quite a few players in the past years; including, Trace McSorley, Saquon Barkley, and many other starters.
This game will be a black out for all Maryland fans at the Capital One Field, the home of the Terrapins. Penn State opens up the game as 7 point favorites, a margin that is beatable by Maryland, but will be difficult as Penn State has nearly shut out all their opponents. So far, only allowing two teams to score over 10 points.
As Mr. Rich Parry described, "Maryland is not known for having a tough stadium." Mr. Parry is a Penn State fan and believes that The Nittany Lions can easily beat Maryland. 
While Maryland's rough patch has been the lost against Temple, Penn State's rough patch so far is their inexperienced Quarterback. Sean Clifford took over this year after Trace McSorley graduated from Penn State and this is definitely their greatest weakness. Mr. Parry states, "Clifford needs to work on his run pass option, although it's gotten better as he's played more." 
The last 3 meetings between these two teams have been completely dominated by The Nittany Lions. Penn State outscored Maryland by a score 142-20 in the last three meetings. Penn State also leads the series with 39 wins 2 losses and 1 tie. 
The underdogs coming into this game are obviously Maryland; therefore, the Terps are anticipating a very tough game. They will be backed up by a home crowd and starting quarterback Josh Jackson is going to have to perform very well against a strong Nittany Lion defense. 
Both Maryland and Penn State have had two weeks to prepare for the battle that will take place on Friday. Having two weeks to prepare for their game has given both teams advantages in their own way.
When Coach Kurt Stein was questioned on what he thought about the outcome, he explained that "Penn State has simply outscored Maryland the past few years," and that "some of Maryland's talent will have to step up against Penn State.".
When asked about Josh Jackson and how he may perform against a difficult Nittany Lions defense, Stein states, "Jackson doesn't have the experience needed to play in a game of this difficulty. Penn State has a 'nasty' front seven on defense, and if he is rushed to hard and under too much pressure he will crack."
Both teams, Maryland and Penn State, have big games after this Friday, some of which include: Michigan University, Ohio State, Michigan State, and Iowa, but this game will be the first big test for both teams.
Maryland and Penn State fans are excited for a highly anticipated game.