Varsity Football: The State Championship Game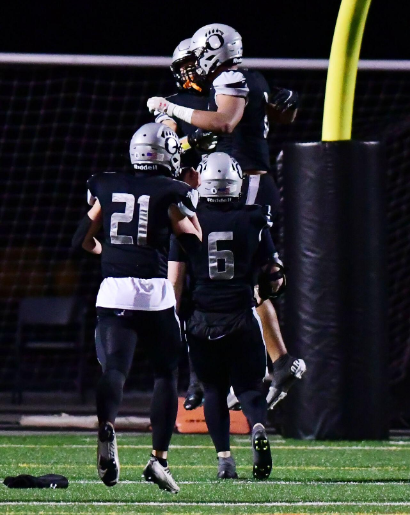 Every high school knows that varsity football is the top sport. Even Sophomore Jason Roberts agrees, "It's America's sport. It's engaging through all quarters and it's exciting to watch even when we're down and there are many chances for people to score."
To some people, football means a lot more than just a sport. High school football can be the start to someone's future in the big leagues or just an outlet to play with the people they've known for so long. The future for football players starts by showing colleges their strongest skills.
States meant everything to Oakdale and trying to win it is the best feeling a football player could ever have, but sometimes, you don't always win. The Oakdale Bears started the first quarter with a big play getting them to the redzone, but Damascus stopped them from scoring on fourth down.
Oakdale's biggest problem during the whole game was having to stop the Damascus run game. With Damascus stopping Oakdale on fourth down, Damascus was able to run all the way down into the endzone making it 7-0.
Going into the second quarter, Oakdale was not able to score any points. Meanwhile Damascus was able to get their first passing touchdown and only pass of the entire game, making it a two score game with Damascus up 14-0.
After the half, Oakdale needed to find a way to bounce back and turn the game around. Oakdale had to kickoff to Damascus in the beginning of the half. Oakdale's defense was able to hold them a few times and was able to score their first touchdown making the score 14-7.
Damascus had an outstanding run game and was able to put their second rushing touchdown on the board making the score 21-7. Oakdale is able to come back and score another touchdown making the score 21-14. Now all Oakdale needed to do was hold Damascus and force them to punt.
Wishes don't always come true. Oakdale couldn't get them to punt and Damascus got the first down, winning the state game. Many Oakdale students were devastated to see their high school team lose in the state championship game, but each one of those football players is going to learn from this loss and come back next year better than ever.
Alex Rodriquez is a freshman who was pulled up from junior varsity halfway through the season. After the game, he thought, "We were all upset after the loss. We played our best and we weren't able to finish, and it was also hard to say goodbye to the seniors."
According to the Frederick News Post, Oakdale's Head Coach, Kurt Stein stated, "I really think this experience, as hard as it's going to be today, next year is going to pay dividends," Stein said on the State Game.
For every athlete, it can be hard to lose the state game that they have worked hard to achieve, but loss helps athletes grow and learn from their mistakes. Overall, Oakdale did an outstanding job this year and we hope to see them make a comeback next year.