Who's winning the NCAA Football Championship?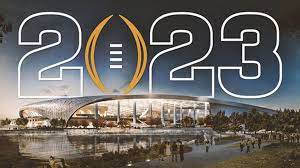 After being done with half of this year's season, 4 teams are able to compete for this year's NCAA Football Championship: Georgia, Ohio State, Tennessee, and Michigan, but that can always change. 
Last year, Alabama, Michigan, Georgia, and Cincinnati all had a shot at the 2022 championship. The Goodyear Cotton Bowl Classic, Alabama number one and Cincinnati number 4, Alabama wins 27-6 and moves on to the championship. There also was number 2 Michigan against number 3 Georgia with Georgia winning the Capital One Orange Bowl 34-11.
The championship game last year was a game most people wouldn't have seen coming. Number three-seeded Georgia beat number one-seeded Alabama 33-18. While so many people thought Alabama was going to win (due to them being a higher rank), Georgia ended up taking the win and ended up being a two score game.
This year, Alabama is out of the picture for the championship game for being ranked number six. Some people like the 4 team playoff games, but coming in 2026, the NCAA is going to make it a 12 team playoff bracket so that it gives more teams a chance to win. 
When asked what he thought of the 12-team playoff bracket, Sophomore Brady Ryan voices,"I like the new 12 team playoff because it gives the opportunity to 8 more schools to compete for a national championship. It also can make the games interesting if a team upsets a higher ranked team."
When it comes to the rules in the NCAA Championship game, the overtime rules are different from the rules in the NFL. With the NFL's new playoff rule, each team gets possession of the ball regardless if the other team scored a touchdown.
But college is a little different, each team gets one drive to score a touchdown or field goal, and if the score is even after both possessions, then they keep on playing until someone loses.
With Georgia being ranked number 1 and having one of the best rosters and talent, they look like they have the best odds of winning this year's championship. Zak Koshar, a sophomore, elaborates,"I think Georgia has the best odds to win the NCAA championship because they have some of the best draft prospects in the league and I think the whole roster has the opportunity to win back to back championships."
Having five super athletes that could be drafted in the 1st round of the NFL draft and still having some young players with a lot of talent, it looks like Georgia has the best shot at winning the championship this year.