9/7/2018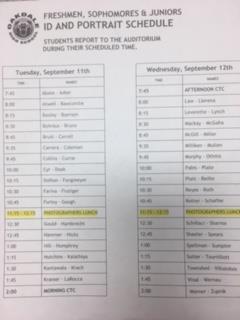 I pledge allegiance to the flag of the United States of America, and to the republic, for which it stands, one nation, under God, indivisible, with liberty and justice for all.
–
Attention ceramics students from last year: You will have until Friday, September 14th to pick up your projects. See Ms. Shuckers-Mattingly for any questions.
–
Freshmen, Sophomores and Juniors: Underclassmen portraits and ID's will be taken Tuesday, 9/11, and Wednesday, 9/12 in the auditorium. Teachers have the schedule which is linked. Also, Seniors, the senior panoramic will be taken Thursday, at 10:30 in the gym. Be sure to sport your "bearwear"!
–
Sophomores and Juniors: The PSAT's will be taking place Wednesday, October 10th. Registration and payment can currently be done online through College Board. This is a great opportunity to prepare for the SATS. Study guides can be found in the guidance office. See Ms. Connolly for any questions.
–
All students: SGA sign ups are going on all this week. Be sure to join for for fun activities, and a chance to be a voice for the students. Grab an application from Mrs. Miller, B228, or Mrs. Mulcahay, A204.
–
COMING TO OHS THIS FALL: Nine boys and sixteen girls from Denmark! They will be attending OHS October 4th through 9th. Help these students experience the American culture through an academic setting by volunteering to be a second family, and hosting one of them!
See Mrs. Pietrucha or Mrs. Brown for any questions.
–
The National Art Honor Society is now accepting applications for the 2018-19 school year. Have you taken at least one Level 2 visual arts class? Do you have a 3.0 or higher GPA? Do you have an interest in serving the community through art? Then NAHS may be for you. Please stop B244, Ms. Stockman's room, for more information and an application. Applications will be due Sept 21st.
–
All students: Please consider signing up for Meghan Schwartz and Anna Dibella's leadership project. They are hosting a Color Run 5K on September 16th in Spring Ridge! The Color Run is to support Oakdale Athletic Boosters. Contact Anna or Meghan to sign up, or look for the flyers hung up around the school.
–
GOOD NEWS! The Study Den, the after-school tutoring center, opens on Tuesday, September 11, and continues every Tuesday and Thursday from 2:15 – 3:30 in B200.If you have a question, please talk with Ms. Harrison, Ms. Watson, Mr. Widmeyer, or Ms. Mehl!
–
Teachers and Staff: Please remember to send in any announcements to Ms. Isacco with the subject "Announcements," or "Score report." Students and substitutes, you can now access all announcements through theoakdalepost.com. Be sure to follow The Oakdale Post on twitter @theoakdalepost as well.
Girls JV stuck out a win in the heat after a weather delay, 7-0. Two goals from Avery Plate. Goal by Peyton Wilkie, Sarah Hollloway, Hannah Lebo, Alex Gould, and Sarah "Sriracha" Thorssell. Assists by Hailey Hallenberg, Taylor Bennett and Caroline Nardi. Come support the girls on Tuesday at home versus Williamsport at 5:30!
–
. Next week, Ambassadors will be meeting on Wednesday, September 12 from 10 a.m. to 11 a.m. in B200 for training.  Juniors will meet on Thursday, September 13.  At this time, sophomores should report directly to the auditorium.